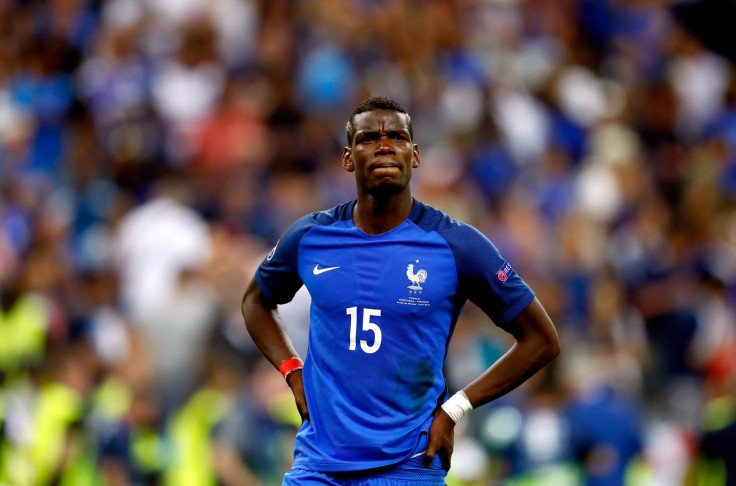 Paul Pogba sees Manchester United as his "first family" and has refused to commit his future to current club Juventus.
Pogba remains heavily linked with a return to Old Trafford in a move that could shatter transfer records. Having already signed Eric Bailly, Zlatan Ibrahimovic and Henrik Mkhitaryan, Jose Mourinho has identified the France international as his fourth target ahead of the 2016-17 season.
On Wednesday (13 July), the 23-year-old was a guest as the 2016 ESPY awards in Los Angeles and sat down with broadcasters Mauricio Pedroza and David Faitelson from ESPN Deportes for a brief interview.
During their chat, Pedroza pulled three replica shirts out from under the desk. When presented with a Juventus top, Pogba said: "This is my team, my family, where I am playing and where I am happy." When A Real Madrid shirt was placed in front of him, the Frenchman said: "They are the white house, you know, they won the Champions League this season, it is a great club."
When the United top came out of the bag, he responded: "They are my first club, my first family."
Pogba was then asked what he would say if Mourinho were to call him. He responded: "I don't know. For now I am a Juventus player and I am happy. I don't know what is going to happen."
Pogba's agent, Mino Raiola, has already dealt extensively with United this summer, representing two of the club's three signings in Ibrahimovic and Mkhitaryan – and has done little to curb talk of a huge move for another one of his big clients.
"Juve do not want to sell him and there is a chance for us to talk about a new contract," Raiola said. "He feels no need to leave. But if you come with a project that will make Paul want to leave, we'll talk with the club."
In his official unveiling as United boss, Mourinho revealed the club were working hard to bring a fourth player to Old Trafford, thought to be Pogba. Sky Sports report that the club's executive vice-chairman Ed Woodward has begun negotiations over a move that could cost as much as £100m.