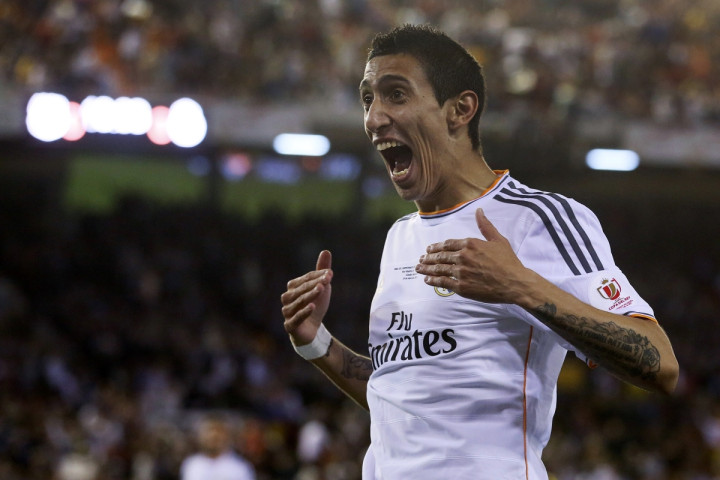 Manchester United legend Paul Scholes has urged Louis van Gaal to sign Real Madrid star Angel Di Maria in order to increase the excitement of the home games.
The Argentine international's future with the Champions League winners is uncertain. The 26-year-old is reportedly keen on making a switch to Old Trafford before the deadline day as United prepare a £50m bid in landing the talented winger.
Louis van Gaal saw his side suffer defeat in his first competitive fixture against Swansea City on the opening day of the Premier League season. The former Red Devils midfielder believes United lack players of Di Maria's calibre and his signing would lift the Old Trafford faithful.
"As for Di Maria, I feel £50m is a lot but he has something that Old Trafford has lacked of late. He would bring that excitement to home games," Scholes told the Independent.
"When United play at home, they need to have players that have the pace and ability to go past opponents and lift the crowd."
"The club have always had them in their best years: Ryan Giggs, Cristiano Ronaldo, Wayne Rooney, even Carlos Tevez. Antonio Valencia provided it, certainly in his early time there."
"Today you look around the squad and ask who will give United that impetus at home. Adnan Januzaj? There are not many others. Playing away from home is a different prospect. There is less pressure to attack."
"You keep the ball, quieten the home support and wait for your opportunity. At home it is a different proposition," he added.
Meanwhile, Scholes also believes United need four other experienced players, along with the signing of Di Maria to bring his former club on top.
"What do United need? Five players. Not five players with potential. Five experienced players... for now," the former England international stressed.
"Five proper players who can hit the ground running and turn around a situation that looks desperate. United's forwards are as good as any team in the league. The problem is what comes behind them."
"My five would be: Xabi Alonso, Sami Khedira, Raphaël Varane, Maria and Mats Hummels," Scholes concluded.