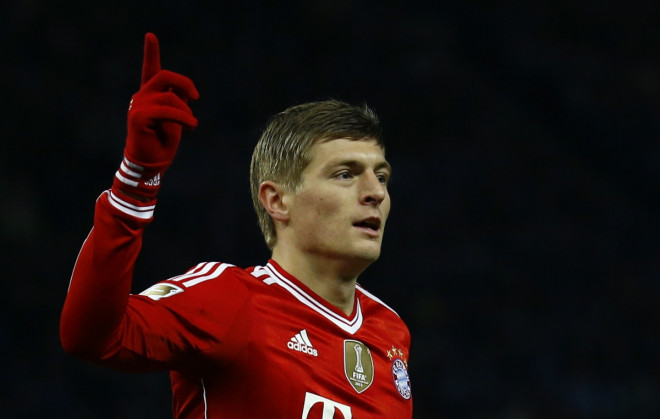 Paul Scholes believes Toni Kroos is the first player Manchester United should be looking to sign this summer.
After confirming the appointment of Netherlands manager Louis van Gaal United are expected to embark on an overhaul of their squad following their dismal Premier League campaign.
Bayern Munich midfielder Kroos, whose has so far refused to sign an extension to his contract set to expire next summer, has been intensely linked with a move to Old Trafford to solve the club's shortcomings in midfield.
And Scholes had revealed the German international would be his number one priority this summer in what he expects to be a busy period at United.
"The first player I'd bring in is Toni Kroos," Scholes wrote in his Paddy Power blog. "He's a top class central midfield player but United need five or six to get anywhere near the top of the Premier League again."
United's inability to address their woeful lack of options in the middle of the park has been a source of frustration for a number of seasons, but Scholes' retirement in 2013 exacerbated the situation.
One proposed solution has been to deploy Wayne Rooney in central midfield and Scholes believes the England striker is more than capable of filling his shoes in a deeper role, although he insists the process should not be rushed.
"Wayne might be a player who'd retire come 31 or 32, given the amount of football he's played. Ryan Giggs has been on the go for ages, but he adjusted his position. Can Wayne do the same? I don't think Wayne will be able to play centre forward until he's 34 or 35. But he could play central midfield, possibility, into his mid-30s.
"He's got all the ability to take over my old position at Manchester United. He has played some games there, but has never gone on an uninterrupted run. Whether he has the discipline to do it, right now I'm not sure."
Scholes, along with Nicky Butt and Phil Neville, joined Ryan Giggs as part of United's back room team as the Welshman led the club through their final four games of the 2013/14 season. The sight of the Class of '92 teammates in the dugout prompted much romanticism amongst United fans but it would appear there will be no place for Scholes on the touchlines next season.
"I've not spoken to (United chief executive) Ed Woodward. I came back for Ryan Giggs for the last few games to try to help out but I'm not waiting for a phonecall and don't expect to be at Old Trafford next season."