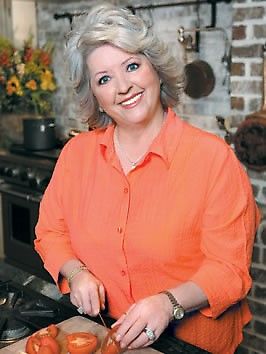 Paula Deen, the "Queen of Southern cuisine," confirmed rumors that she has type 2 diabetes during NBC's Today show Tuesday when she announced a deal to promote a diabetes drug.
The 64-year-old celebrity cook, known for saying "more butter" during her shows, said the diagnosis she hid for the past three years wouldn't change how she cooks.
"On my show I share with you all these yummy, fattening recipes, but I tell people, 'in moderation,"' she said during the show. "I've always eaten in moderation."
Her cooking show is "for entertainment. And people have to be responsible. Like I told Oprah a few years ago, honey, I'm your cook, not your doctor. You are going to have to be responsible for yourself."
The Food Network star also announced Tuesday that she would become spokeswoman for Novo Nordisk, the maker of her diabetes medication.
Stock in the global healthcare company headquartered in Denmark rose nearly 2 percent in early morning trading Tuesday to $118.50 a share on the Nasdaq.
http://finance.yahoo.com/q?s=NVO
Deen has been criticized for her high-fat, high-sugar foods that lead to weight gain, a significant factor in diabetes that costs Americans $116 billion in direct medical costs and contributed to 231,000 deaths in 2007, the latest data from the American Diabetes Association. An estimated 25 million Americans have Type 2 diabetes. However, some researchers say that the disease can not only be prevented, but people with diabetes can reverse the condition that causes one's body to resist insulin that helps regulate blood sugar.
Anthony Bourdain told TV Guide that Deen was "the worst, most dangerous person to America," who was "proud of the fact that her food is f---ing bad for you."
Deen's response through the New York Post was: "Anthony Bourdain needs to get a life."
Deen said since her diagnosis, she started walking the treadmill and quit drinking sweet tea, a ubiquitous beverage in the South.
"That's a big trick for a little Southern girl," Deen told USA Today. "I calculated how much sugar I drank in empty calories, and it was staggering. I would start drinking tea at lunchtime and drank it all the way to bedtime."
Bourdain, in reaction to Deen's diabetes news told Eater.com: "When your signature dish is hamburger in between a doughnut, and you've been cheerfully selling this stuff knowing all along that you've got type 2 diabetes... It's in bad taste if nothing else."
The diabetes drug market has been forecast to increase to $33.7 billion in 2016, up from $21.9 billion in 2009, according to GlobalData, a market consulting firm.
However, Type 2 diabetes can not only be prevented, but clinical scientists have found ways to "cure" the disease that can lead to heart disease, nerve damage(neuropathy), blindness and hypertension.
From the Mayo Clinic: "There's no cure for type 2 diabetes, but you can manage - or even prevent - the condition. Start by eating well, exercising and maintaining a healthy weight. If diet and exercise aren't enough to control your type 2 diabetes, you may need diabetes medications or insulin therapy to manage your blood sugar."
In 2011, researchers came out with a more radical proposal: Type 2 diabetes could be cured by starving oneself.
"We believe that this shows that Type 2 diabetes is all about energy balance in the body," Roy Taylor, head of the magnetic resonance imaging unit at Newcastle University in Britain and study author, said in a statement. "If you are eating more [calories] than you burn, then the excess is stored in the liver and pancreas as fat, which can lead to Type 2 diabetes in some people. What we need to examine further is why some people are more susceptible to developing diabetes than others.
"We used the 600-calorie diet to test a hypothesis. What I can tell you definitively is that if people lose substantial weight by normal means, they will lose their diabetes."
The study included 11 volunteers who had developed diabetes later in life and were put on the diet of a diet drink and non-starchy vegetables for eight weeks.
However, health experts say that people with diabetes should consult their physician to find the best approach to managing and preventing diabetes.