Taiwanese firm Quanta has invented a tiny computer that is able to run Windows 10 and fit into a power adapter.
On 2 June at the Computex show in Taipei, Microsoft showcased a myriad of devices that are able to run the upcoming Windows 10 operating system, including the Compute Plug, which is roughly the size of a conventional phone charger and features two USB ports and a HDMI port.
Although not many details have been released about the Compute Plug, Microsoft did say that the device is "a mini PC and power adapter in one that can be plugged into any outlet and connected to a TV to turn it into a smart computer that can be controlled using Cortana via a Bluetooth remote or headset".
Microsoft's Cortana is a Siri-esque personal digital assistant powered by the Bing search engine that also enables Windows 10 to be connected to an iPhone, Android smartphone or Windows phone.
In theory, this means that users could command the Compute Plug to visit a specific website or open an app like YouTube or Netflix, similar to the voice commands available with the Xbox One.
Will tiny PCs with voice commands be the future?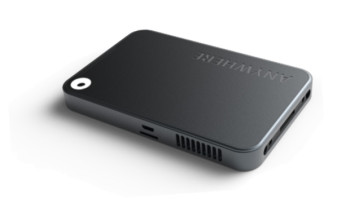 Quanta already has an existing mini-computer that fits onto a memory stick called the NH1, which runs Windows 8.1 on an Intel Bay trail T-CR SoC chip and features 3GB of RAM and 64GB of MMC flash storage.
Shrinking PCs are an ongoing trend, with Intel releasing the Compute Stick in January, followed by Lucoms Daewoo's PC-on-a-stick, but neither use Cortana as a control mechanism.
Another Taiwanese firm Foxconn, which usually assembles computing products, has showcased a mini-PC of its own – the Foxconn Kangaroo.
Similar to the Compute Plug, the portable hard drive-shaped Kangaroo can run Windows 10, but it has its own battery that lasts for up to six hours as well as a finger print reader, and it too is designed to turn TV monitors into a PC.
No more details have been released about the Foxconn Kangaroo either, but Microsoft's point is that even though Windows 10's minimum PC requirements are the same as Windows Vista, Windows 7 and Windows 8.1, the one-size-fits-all operating system is clearly more diverse.
But will these tiny computers take off? Proponents of the technology say that it has great benefits being used in developing countries, and if they require less power for a great amount of computing power, together with improved voice controls, this could well be the case.