Microsoft has officially announced that Windows 10 will be available from 29 July in 190 countries around the globe.
Unlike previous versions of the computer operating system, Windows 10 will be a free upgrade to many users. Those currently using Windows 7 and 8.1 will be able to download and install Windows 10 free of charge. The free upgrade will be available for one year from 29 July, and Microsoft will offer support to upgraded devices for their entire life, also free of charge.
Customers who want to be among the first to get their hands on Windows 10 will be able to reserve a copy in the coming weeks, Microsoft said. The main selling point of Windows 10 is how it unifies the computer experience across desktops, laptops, hybrid machine, tablets and smartphone. There are no longer different versions of Windows for each device type, as all products will run Windows 10.
The biggest features of Windows 10 include the return of the Start menu, a new web browser, and the inclusion of Cortana, the voice-activated personal assistant which is similar to Apple's Siri and Google Now.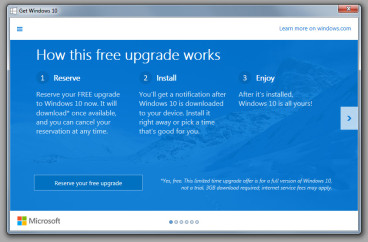 To advertising that Windows 10 will be coming soon - and that it's a free upgrade for many users - Microsoft has started to show a notification in the tool bars of Windows 7 and 8.1 users.
A developer preview of Windows 10 can be downloaded now, but it isn't recommended that users try this on a machine they rely on for work. The build contain many bugs and there is a lot for Microsoft to iron out before it makes Windows 10 available to everyone in just under two months' time.