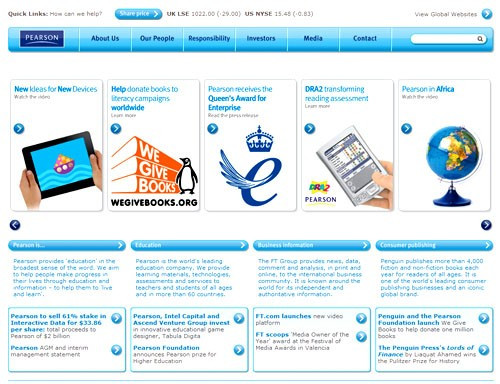 Shares in publishing company Pearson were up on the FTSE 100 in afternoon trading after the group posted an 83 per cent rise in profit for the first half of the year.
Group sales were reported as rising nine per cent to over £2.3 billion, adjusted operating profit more than doubled to £178 million while adjusted pre-tax profit reached £203 million.
Net debt was reported as falling six per cent to £1.7 billion.
Pearson said that it would be increasing its dividend by seven per cent to 13.0 pence per share.
Despite the rise in profit Pearson said that market conditions remained uncertain and that it expected growth to be slow in the second half of the year, thanks to tough comparables. Overall the group said it expected to deliver adjusted earnings of 70 pence per share in the full year, up from 64.5 pence per share in 2009.
Marjorie Scardino, Chief Executive of Pearson, said, "The 2010 finish line isn't yet in sight, but this is as good a start to our year as I've seen. That boosts our confidence in the full year, enabling us to brighten our outlook and raise our guidance. We've invested consistently in global and digital education and information and that's helping every part of Pearson grow strongly, even in uncertain markets. We're also able to accelerate that change as we part company with Interactive Data and put the proceeds to work in the world's leading learning company."
By 14:09 shares in Pearson were up 4.62 per cent on the FTSE 100 to 1,018.00 pence per share.