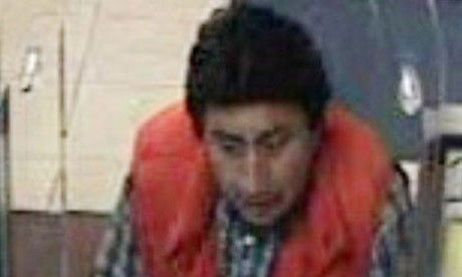 A businessman was bound up and tortured during a month in captivity after being snatched off a New York street in broad daylight by kidnappers who demanded a $3m ransom that his family in Ecuador did not have.
Pedro Portugal, a father of six, was blindfolded, burned with acid and had several teeth knocked out before police traced him to a warehouse in a deserted area in the Queens district of the city, police said.
Three men, Christian Acuna, 35, Dennis Alves, 32, and Eduardo Moncayo, 38, all from New York, have been charged with kidnapping and unlawful imprisonment after last month's abduction.
Three other suspects fled to Ecuador and two more were thought to be still at large in the US, according to the UPI news agency .
Portugal, who owns a small accounting firm in the area, "suffered physical injuries and has been deeply traumatised by the ordeal", said Queens district attorney Richard Brown. Portugal was discharged from hospital on Thursday night.
He was abducted on a Queens street as he walked to his car on 18 April. One of his abductors flashed what looked like a police badge and called out his name, according to police.
A masked gang then forced him into a car, where he was bound and held at knifepoint before being taken to the warehouse.
Shortly afterwards, Portugal's mother, who lives in the Ecuadorian capital of Quito received a call from a man identifying himself as Tito who demanded a ransom of $3m (£2m), police said.
Police commissioner Raymond Kelly said that while the Portugal family had some property, it was not enough cash to pay the ransom.
"It's something that we're still investigating to see why these people thought that $3m might have been available," Kelly said.
On top of the acid burnings, Portugal was beaten and threatened with death and mutilation, including threats to cut off his fingers if the money was not paid, officials said.
On 20 May, investigators who had been monitoring the area noticed a light in an upstairs room of an otherwise dark warehouse building in Long Island City, Queens.
They discovered Portugal in a makeshift apartment, his hands trussed up. "The person who was 'babysitting' him, as they called it, got away, but he was arrested very quickly," Kelly said.
Luis Lopez, vice-consul of Ecuador in New York, said police had kept the consulate informed about developments after detectives flew to Ecuador to conduct further investigations.
According to the criminal complaint, Moncayo said he had agreed to carry out the plan after being approached by another suspect, Claudio Ordonez, known as "doctor".
Still on the run
Moncayo is accused of flashing the fake police badge that caused Portugal to stop on the street. Ordonez is alleged to have paid the gang between $800 a week and $5,000 in total to guard Portugal at the warehouse.
Ordonez is still on the run, police said, along with an unknown man wearing a red sweatshirt who was captured on CCTV at a branch of Chase bank in Manhattan attempting to withdraw money from Portugal's account.
Authorities said police found Portugal by tracking people with criminal records who had travelled back and forth to Ecuador at about the time of the abduction.
They found Portugal after detectives who had been monitoring phone calls in the area noticed pizzas being delivered to the warehouse.
"This is a terrifying story of a businessman allegedly being forcibly abducted off the streets of Queens County in broad daylight and being beaten and held against his will for more than a month while his alleged kidnappers demanded $3 million from relatives in Ecuador for his safe return," said prosecutor Richard Brown.
"In the process, the victim allegedly suffered physical injuries and has been deeply traumatised by the ordeal."