Political leaders of all three main parties in Birmingham have united to condemn a planned anti-Islamic march in their city, accusing the rally of being "based on prejudice, intolerance and hate". In a joint statement, Birmingham's Labour, Conservative and Liberal Democrat leaders said the council rejected a "far-right" march by Pegida UK due to take place in their city.
The statement follows an IBTimesUK interview with Tommy Robinson, the former leader of the English Defence League (EDL), in which he said he would relaunch a UK branch of Pegida, holding its first rally on 6 February 2016 in Birmingham. This was, he said, because Birmingham had become the "terrorist epicentre of Britain".
Pegida, an anti-immigration group set up to halt what it sees as the "Islamisation of the West", has held protests across northern Europe, attracting tens of thousands at a time. Robinson said the group had gone "mainstream" in countries like Germany.
But the decision to hold a UK rally for the group in Birmingham – a city with one of the UK's largest Muslim communities – was condemned by the city's leading politicians. A joint statement, issued on Monday (7 December), was signed by Cllr John Clancy (Labour leader of Birmingham City Council), Cllr Robert Alden (leader of the Birmingham Conservatives) and Cllr Paul Tilsley (leader of the Birmingham Liberal Democrats).
It said: "On the day that Birmingham was formally awarded City of Sanctuary status (December 4), it was disappointing to hear of the plans for the launch of a new anti-Islamic far-right group.
"Birmingham is a city that has a proud history of tolerance, cohesion and integration – with people from around the world of all faiths and heritage welcome to make their home here. Brummies do not subscribe to ideas based on prejudice, intolerance and hate. That is why the planned launch of a new group in Birmingham is rejected by the council.
"The best way to demonstrate this is for everyone to go about their normal business on 6 February as a very public exhibition of what makes Birmingham great."
A counter protest to Pegida UK's march has also been set up by the Birmingham branch of anti-fascist group Unite Against Fascism (UAF). The group described members of Pegida as "Islamophobes", saying in a Facebook post: "Recently, a 3,000 strong Newcastle Unites/UAF march humiliated the racists first mobilisation in Britain massively outnumbering their 300. We must organise to do the same in Birmingham."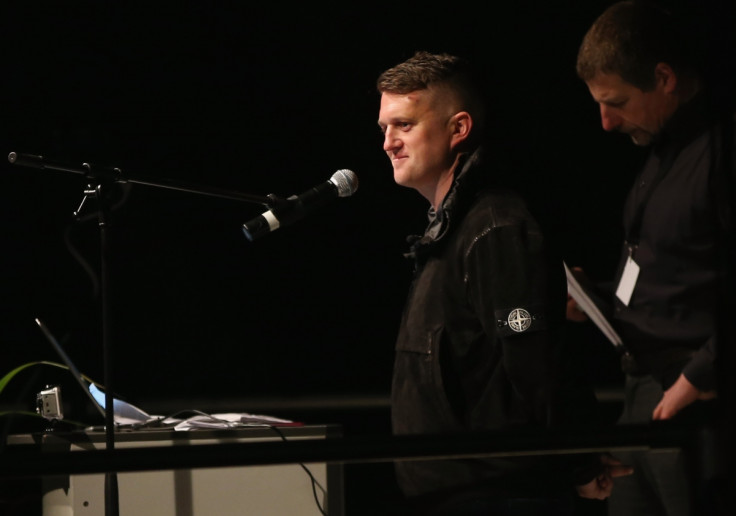 Robinson, who appeared to renounce his far-right views after leaving the EDL in 2013, told IBTimes UK the group was "not coming for confrontation" and had "no plans to march through or near a Muslim community". He accused Birmingham councillors of being "hypocrites".
He said: "They're calling us a far-right group before we've even been properly set up. Everyone knows I'm opposed to far-right extremism.
"The rally – which we're calling a 'silent walk' – will be a march in Birmingham with some speeches at the end. We don't want any confrontation. There will be no alcohol allowed, no masks allowed and no racists allowed. If there are opposition rallies, we don't want to go near them. We've asked the police where they think the best and safest place for us to march would be. We just want to walk peacefully through the streets. Why have these Birmingham councillors got a problem with that?
"They talk of the history of Birmingham [as one of cohesion and tolerance]. The truth is it was, but not any more. Now it's a hotbed for radical Islam. These council leaders never came out to condemn the marches held by Muslim extremists, like the anti-free speech protests condemning the Charlie Hebdo cartoons. They're hypocrites."
While Pegida protests across north Europe have gained traction in the wake of the Syrian refugee crisis, protests under the same banner in the UK have fared poorly. In March, a protest in Edinburgh, under the name of Pegida, saw a minimal turnout.
The relaunch of Pegida UK, announced on December 3 in an interview with Channel 4 News, has also suffered setbacks with its leader resigning after only a few days. Ex-soldier Tim Scott, then the face of the movement, struggled when asked what the movement's policies were in a car-crash interview. He announced his resignation soon after in what he said was an "epic fail in my life".
But Robinson, now acting leader, insisted the group had legs in the UK. He said: "Forget what happened before. Those previous protests weren't officially sanctioned by Pegida. The Birmingham rally will be big."