Quilliam Defends Work with Tommy Robinson as EDL Founder Racks Up Another Conviction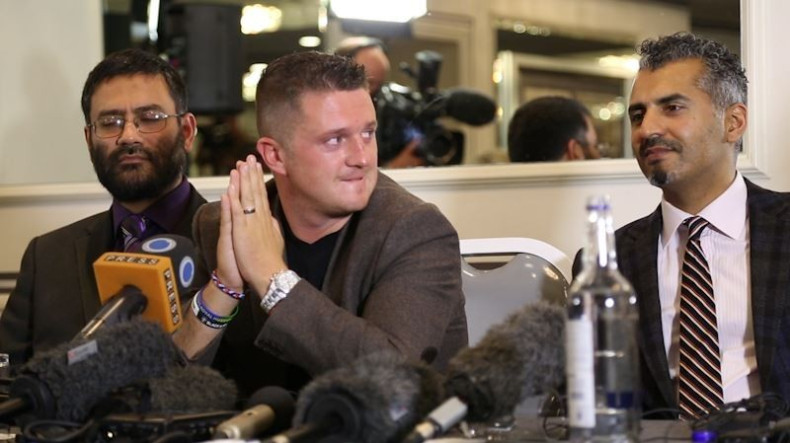 Anti-extremism group Quilliam has restated its loyalty to Tommy Robinson after the founder of the English Defence League (EDL) admitted mortgage fraud in court.
Robinson, real name Stephen Yaxley Lennon, admitted committing the offence in 2009 during a court hearing. He was told he could face prison when sentenced next year.
The mortgage fraud conviction lengthened Robinson's rap sheet, which includes a jail sentence for a visa offence as well as convictions for assault and public order offences.
In the wake of his admission, the Quilliam foundation, which former Muslim fanatics set up to counter divisive extremism, was called upon to examine its conscience by a left-leaning peace group.
Quilliam helped Robinson to cut his ties with the EDL and he is now working with it to advance the group's anti-extremism agenda.
Calling Robinson's rap sheet "more than a little extensive" a Hope not Hate spokesman told IBTimes UK: "It's up to Quilliam what is on their conscience. When you work with extremists, you have to accept they come with baggage.
"It's a question for Quilliam's conscience: Has Robinson truly turned his back on extremism and crime?"
In response, Quilliam underlined its faith in Robinson to act as a force for de-radicalising EDL supporters.
A Quilliam spokesman insisted Robinson remained the right person to reach out to rank-and-file EDL supporters, even after admitting mortgage fraud.
"He has a number of convictions but we are thinking about the future and what can be achieved. This is an old offence and we've been working with him in the past month or so," IBTimes UK was told.
"It won't affect our work which is based on moving forward and he's done the right thing by admitting what happened. We believe he can be a force for good and in terms of the group of people he can reach, his credibility will not be affected.
"Some middle-class newspaper columnists may not like it, but the majority of EDL supporters will not be too concerned he has a conviction for mortgage fraud. He will be able to bring in people who share similar views."
The far-right EDL is apparently becoming even more chaotic and incoherent following the joint resignations of Robinson and deputy leader Kevin Carroll last month.
There was criticism following a march in Yorkshire by the EDL during which a supporter drunkenly lunged at the bishop of Pontefract as he addressed a peace rally.
But Robinson's legal woes have meant progress in de-radicalisation work has been painfully slow. A Quilliam source said their partnership with the former far-right figurehead is still "in the very early stages. He has spent the past few weeks in court and we have not done as much as we would have liked."