The French satirical weekly Charlie Hebdo was honoured on Tuesday 5 May at a New York gala under heavy security, organisers said.
Charlie Hebdo was targeted in a deadly attack earlier this year by Islamist gunmen.
The award, from the PEN American Center, comes two days after two gunmen opened fire at a Texas exhibit of caricatures of the Prophet Muhammad, depictions that Muslims consider offensive.
Drawings of the founder of Islam were also at the heart of the January attack on Charlie Hebdo's Paris offices that killed 12 people. Al Qaeda's branch in Yemen claimed responsibility, saying the weekly had insulted the Prophet with its cartoons.
"The defence of people murdered for their exercise of free speech is at the heart of what PEN stands for," PEN President Andrew Solomon told the gala, which was filled with literary figures.
"Charlie Hebdo's current staff have persisted, and tonight's award reflects their refusal to accept the curtailment of lawful speech through violence," he said.
Accepting the award, Charlie Hebdo's editor-in-chief Gerard Biard said the most powerful weapon of religious extremists is fear and "we must disarm them".
"They don't want us to write and draw. We must write and draw," he said. "They don't want us to think and laugh. We must think and laugh. They don't want us to debate. We must debate.
"Being here tonight, we contribute to disarming them," he said.
PEN's decision to give the Freedom of Expression Courage Award to Charlie Hebdo prompted six prominent writers to withdraw from the event and more than 100 others to write a letter of protest, said PEN, which advocates on behalf of writers persecuted because of their work.
One novelist who withdrew, Rachel Kushner, said she was not comfortable with Charlie Hebdo's "cultural intolerance," PEN said. Authors Peter Carey, Michael Ondaatje, Francine Prose, Teju Cole and Taiye Selasi also withdrew, PEN said.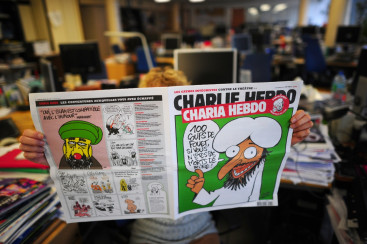 The Paris attack has raised questions about religious tolerance and censorship in France, which has five million Muslims.
Arriving for the PEN ceremony, U.S. cartoonist Art Spiegelman, who wrote the graphic novel Maus, said he did not agree with writers skipping the gala in protest.
"Free expression means the right to be an absolute idiot, and so I think it's important for those writers to exercise those rights," he said.
PEN organisers said security was "increased" at the event.
Uniformed officers, police counter-terrorism units and police dogs were visible near the entrance of the American Museum of Natural History, where the event was held.
A spokeswoman for the New York Police Department said there had been no immediate threats.
Police and federal agents had planned security for months ahead of the Texas exhibit on 3 May. The two gunmen there were killed after opening fire in a parking lot outside the exhibit.