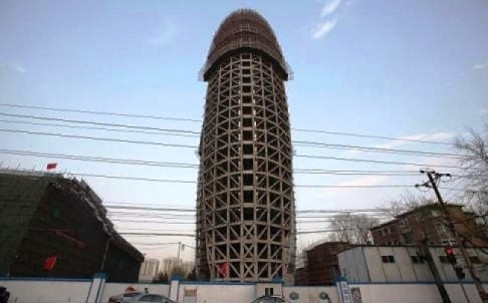 Chinese authorities have rushed to censor the country's microblogging site, Sina Weibo, after users started mocking a picture of the new Beijing headquarters of the People's Daily newspaper, which resemble a giant penis.
A search on Sina Weibo for "People's Daily" and "building" results in a message that says the keywords have been blocked "in accordance with relevant laws, regulations and policies, search results cannot be displayed".
Some comments about the 150 metre tower, which is still under construction, were recorded despite the censorship.
"Of course the national mouthpiece should be imposing," said one user.
"It seems the People's Daily is going to rise up, there's hope for the Chinese dream," said another.
Detractors used Photoshop to put the People's Daily building inside China Central Television (CCTV) HQ, which has been nicknamed the "Big Underpants" building.
The People's Daily building was designed by Prof Zhou Qi of Southeast University School of Architecture. Zhou won the design competition between at least four architecture firms in 2009.
The newspaper itself has been called "Raping People Daily" by Chinese netizens for "chronically misleading the people with false reports", according to blog Hug China.
"It was understood that the propagandists in Beijing do not like this nickname, but that they chose the bizarre design of the new headquarters reveals that it may not necessarily be so," it said.