Pep Guardiola will make a decision regarding his future tomorrow, according to reports in the Press Association, with the Barcelona manager considering a range of options after the Catalonians were knocked out of the Champions League semi-final by Chelsea.
Guardiola is currently on a rolling contract with Barcelona, and though the side is considered by many to be the best in a generation, they are now out of the running for both the Champions League and La Liga trophies and can only add the Copa Del Rey to their cabinet this season if they beat Athletic Bilbao on May 25.
With that in mind, and the high pressure that comes with managing one of Spain's top teams, speculation has been rife that Guardiola may take the opportunity to go elsewhere and prove that he can manage clubs other than Barcelona to greatness.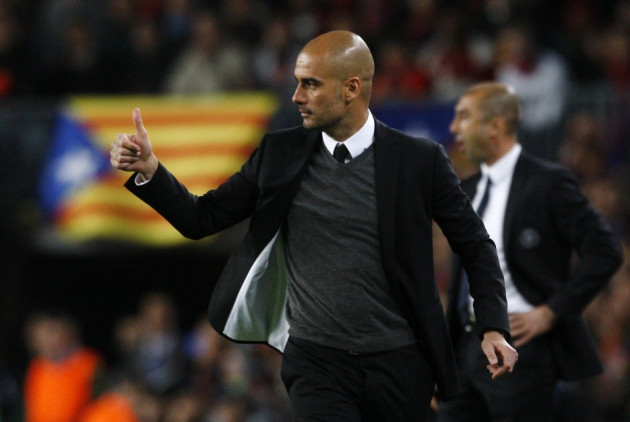 Chelsea are believed to be chasing the Spaniard, and would no doubt be willing to offer huge compensation for him to make the move to Stamford Bridge.
When questioned over a move to the Blues, as the sides were preparing to face each other, Guardiola dodged the question, telling reporters: "It is fantasy, it's hypothetical.
"I am coach of Barcelona now and they have a good manager who is getting unbelievable results.
"It's not useful for Chelsea or for Barcelona to talk about that. There is no time to talk about that."
Fresh speculation today also suggested that England might be interested in the 41 year old, but these rumours have been denied by the FA.
Barcelona appear to be hoping that Guardiola will decide to stay, and he has already held talks with club president Sandro Rosell over their plans for the future.
After the game with Chelsea on Tuesday, in which the Blues shocked Barcelona by drawing 2-2 with 10 men and no out and out centre backs on the pitch, Guardiola said he was ready to make a decision over what happens next season.
"I will speak with Tito [Vilanova, assistant manager] and see what we have to do. Right now, we need to talk more about the emotion of our players and how they recover because there are many players that have been playing a long time," he said.
"We have to go to Rayo Vallecano [this weekend], we are still Barca, we have to continue doing things as we usually do them.
"So we will talk to the president as well and we will talk about everything - the situation what happened in these days and of course we will take a decision because it is time to take a decision now.''