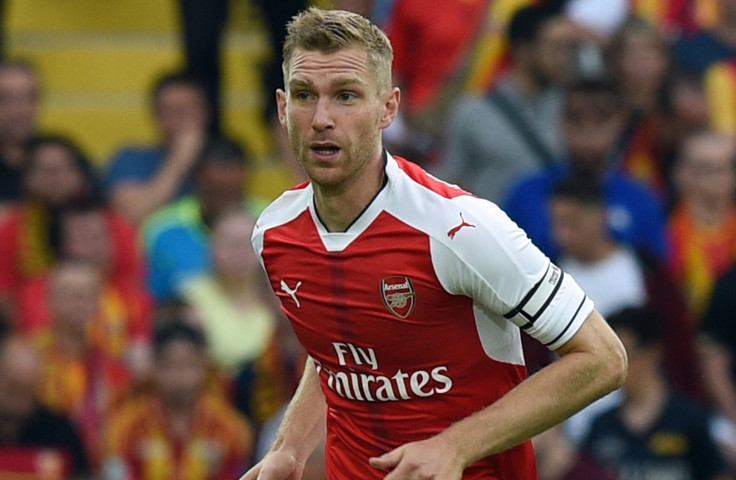 Arsenal have appointed defender Per Mertesacker as their club captain from the 2016-17 season. The Germany international succeeds Mikel Arteta after the midfielder's contract expired at the end of the season and becomes the 47th different player to lead the north London club.
Mertesacker often occupied the armband last season amid Arteta's injury absence but has been given the responsibility on a long-term basis. The 31-year-old has made 207 appearances for the Gunners since joining the club in 2011 and is one of the most experienced players currently at The Emirates Stadium.
However, the World Cup winner will have to wait to make his first appearance as the permanent Arsenal captain having been ruled out until the new year with a knee injury. Santi Cazorla or Petr Cech will stand-in for Mertesacker during the first half of the campaign – starting against Liverpool in their opening game – but Wenger says the role will be natural for the centre-back.
"Per is a very respected figure in the dressing room, is loved as well and is also a very demanding figure. I think it is absolutely natural to be [him]," Wenger told Arsenal's official website. "[In his absence] that's where it will be taken by the assistants. One of them will be Koscielny, also Cazorla - the experienced players - Cech maybe. We will have a group of people that will take care of the energy levels and the problems of the team. That will be down a lot to the experienced players."
The selection of Mertesacker does see Wenger drop a hint over his selection policy for the remainder of the campaign – with the former Werder Bremen man now expected to be first choice. in the defence upon his return. Laurent Koscielny, Gabriel and new signing Rob Holding will likely battle it out to partner the German this term and beyond.
Jack Wilshere accompanies Mertesacker on the sidelines at the start of the season but he is thrilled with the appointment. "It is good news for us. For me anyway, over the last few seasons he has been like a captain," the England international told the Arsenal website.
"He is a natural leader and I know he has picked up a injury, but he can still bring so much to us as a team. I'm sure if you ask the other boys, they will say he would be an obvious choice for captain. We are happy. He is organised, and he won't take any nonsense from anyone. If someone is late or on their phone, he is on to them - it doesn't matter who you are. He is the one who organises our team dinners so for me he is a great choice."