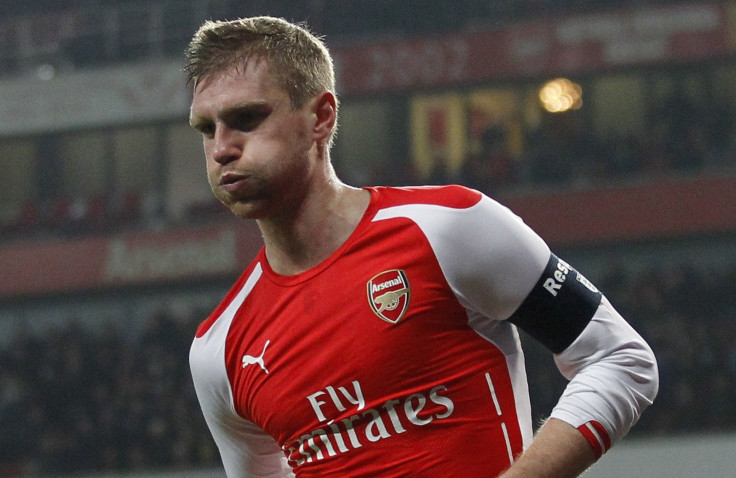 Per Mertesacker believes that Arsenal's failure to bring the ball out of their own half against Tottenham was the main reason behind their failure to affect the game.
The Gunners took the lead after Danny Welbeck surged past Danny Rose to open up a goalscoring opportunity for Olivier Giroud, whose miscued flick found Mesut Ozil unmarked in the far corner. The German slotted home a neat volley, making it three goals in three after his comeback from injury.
However, Tottenham grew into the game and threw wave after wave of attack into the Arsenal half, as the Gunners dug deep and tried to defend their lead. The Gunners hardly ventured out of their half and were undone by Tottenham's pressing which forced them to give away the ball at crucial moments.
Their failure to string a pass together meant that the ball was always coming back at them and barring a couple of brilliant saves from Hugo Lloris in the second half, the Gunners hardly troubled the Spurs penalty box.
Mertesacker mirrors the sentiments and insists that they need to iron out their defects if they have to challenge Spurs for a top four spot, where they are currently a point ahead.
"Obviously we're not satisfied with that result. We weren't active enough," he told www.arsenal.com.
"Just at the end we started to play our game, but it took us too long. We didn't defend badly but we couldn't take advantage of any counter-attacks.
"It was very difficult for us, so we're very disappointed that we couldn't find our way to play.
"I think we reacted all the time. When you defend, you react sometimes. When we had the ball, we couldn't find solutions.
"They were always at us - and we couldn't get the ball so quickly in our half. We couldn't make sure that we get good counter-attacks and good breaks to help.
"We're very disappointed with a lot of ball losses, especially in our half. They lost the ball and we won it but then couldn't find a solution to get out of the situations," he concluded.