Per Mertesacker says Arsenal need to learn from Chelsea consistency to win titles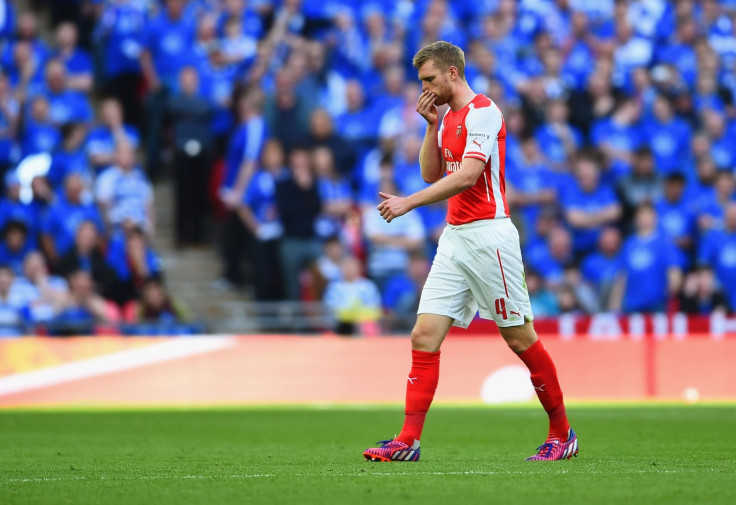 Arsenal star Per Mertesacker has admitted the Gunners need to learn the consistency that Chelsea displayed to win the Premier League last campaign if they are to win the title this time around.
Arsene Wenger's side went on an impressive run during the second part of the last campaign, suffering just two Premier League defeats since their disappointing loss to Southampton in the New Year.
It was their poor start to the season that condemned them to finish third with the Blues clinching the title instead.
Speaking ahead of the Community Shield final against their London rivals on Sunday 2 August, Mertesacker admitted they need to replicate Chelsea's consistency throughout the next season if they want to beat them to the title.
"There's always been that special tension and we could always handle that pressure. Even at 2-0 down, we always managed to deal with different situations," the centre-back told the club website.
"We haven't played Chelsea at Wembley in such a situation for a long time. They played really well last season. They were really consistent and always defended well from the front. I think if we can learn something from Chelsea, it's to be consistent over the whole season.
"You need to be consistent, especially in the league. In the cup, you can win it with six straight victories, which we managed to do twice. The hunger is still there to win a cup and to stay cup winners. The consistency over the whole season is vital. It's what everyone wants, the players and the fans."
Wenger has just made one addition to the squad -- Petr Cech from Chelsea -- but Mertesacker believes that the players proved during the second part of the last campaign that there is already the foundations to fight for silverware.
"I believe we have a good base, a good structure and a good balance. We showed that in the second half of last season. We didn't concede a lot of goals and that's the target for the first matches, especially for the first half of the season," the German international added.
"I think the key for our success will be not suffering too many injuries and not dropping too many points at the start of the season. That way we can ensure that we remain competitors.
"The hunger to retain the shield is still there. Winning a trophy would add to the team's confidence, especially a week before the season starts. This match shows how good, how fit the team are and it's also a reflection of how well we've prepared over pre-season."
© Copyright IBTimes 2023. All rights reserved.