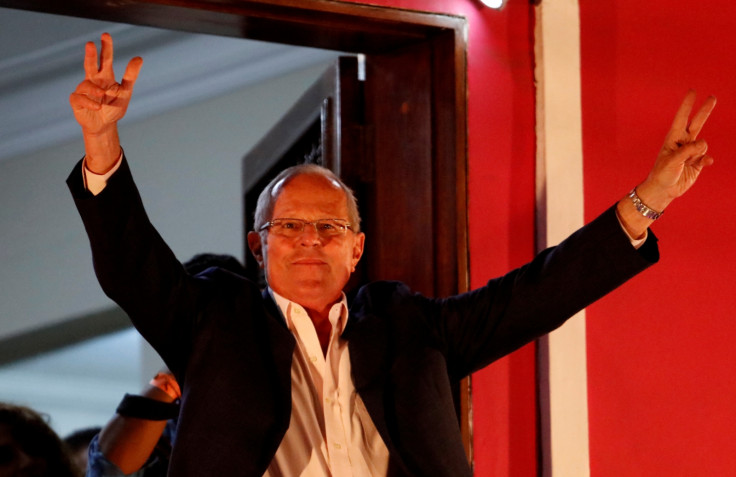 A partial count in Peru's presidential elections shows that the former World Bank economist, Pedro Pablo Kuczynski, has a very narrow lead over his rival Keiko Fujimori. After 78% of the votes were counted, he had 50.82% while Fujimori trailed at 49.18%.
Kuczynski, a 77-year-old former Wall Street investor, was Prime Minister of the country from 2005 to 2006. He said that he would use his financial experience to promote economic growth and clean up corruption in the country.
Speaking to supporters on Sunday night from the balcony of his campaign headquarters, he said: "We're going to have a government built on consensus. No more low blows or fights. We want a democratic country, a country committed to dialogue," ABC News reported.
He had previously faced scrutiny over his proximity to the business elite of Peru. He contested in the presidential elections in 2011 and supported Fujimori after he came third.
Fujimori has been a favourite to win the election, but support vanished in the final days of campaigning due to corruption scandals that rocked her Popular Force party. A senior party aide stepped down amidst allegations that linked him to money laundering and drug trafficking.
She has, however, maintained the innocence of her team and said that the claims were a smear campaign against her party, Reuters reported.
She is the daughter of former President Alberto Fujimori, who was convicted for crimes against humanity, bribery and illegally using state funds in 2009. He is serving a prison sentence of 25 years.
According to media reports, some voters have openly pledged their support to Ms Fujimori while other Peruvians say that they would never vote for anyone associated with her father. He is still credited for bringing stability to the economy and defeating Maoist group Shining Path in the early 90's.
Before the partial count, Fujimori made an emotional speech to her supporters in which she thanked them. She said: "This is a tight vote without a doubt... what we're seeing is the vitality of democracy in our country, and that fills me with pride."
She ousted her father's strongest defenders from her party's congressional ticket at the beginning of the campaign and has vowed to tackle crime.
Alexandra Gamarra, a 25-year-old university student in Peru, told Reuters: "Peru will be much better off with PPK. I'm very proud that Peru remembered what happened years ago. I have family members who had to leave the country because of Fujimori."