Thousands of people filled the streets of Lima to protest against Peru's centre-right presidential candidate Keiko Fujimori, who, after the latest opinion polls, is now ahead in the country's election race, with voting due to take place on Sunday 5 June.
Holding placards with slogans such as Danger. No to Keiko and Narco State Doesn't Go. Keiko will not go! students, trade unions and leftist politicians, including presidential candidate Veronika Mendoza, joined forces against the possibility of Fujimori following in her father's footsteps. Alberto Fujimori was president of the country between 1990 and 2000 when he fled to Japan amid a major corruption scandal and accusations of human rights violations for which he was later jailed for 25 years.
"The broad front is here present from far and wide to protest their rejection of the possibility we will be governed by corruption, narcotraffickers, delinquency and violence that are represented today by the candidacy of Ms Keiko Fujimori. We have a memory, and we cannot allow Fujimorism to return to govern us," Mendoza told Reuters.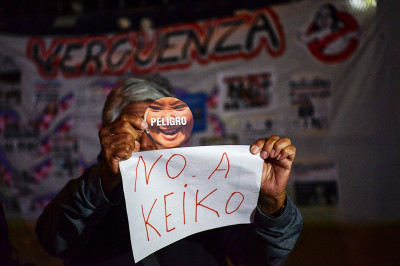 Alberto Fujimori is currently serving his 25-year sentence, leaving many people to feel sceptical about his daughter's candidacy. Her ties to her father are a sticking point for many in Peru, who are worried that it would herald an era of corruption and authoritarianism.
The ex-president, who has been in prison since 2007, was held responsible for a forced sterilisations programme that was put in place against indigenous people, mainly of the Quechuas and the Aymaras, as a "public health plan". He presented the plan in July 1995 as a way of revising the General Law of Population. Over the course of five years, 350,000 women were sterilised and 25,000 men were forced to have vasectomies. Documents later proved Fujimori was informed of the number of sterilisations made every month by his former minister of health, Eduardo Yong Motta.
However, Keiko Fujimori has solidified her lead in the election race, with a 45.9% lead, ahead of her rival Pedro Pablo Kuczynski, a 77-year-old former World Bank economist.
Kuczynski, who tends to shy away from direct confrontation, pointed to widespread corruption in the 1990-2000 government of Fujimori's father and urged Peruvians to vote for a candidate without any links to drug trafficking. He did not attend the rally in Lima, telling his supporters that it would not be right to protest against Keiko Fujimori's inclusion in the election.
"The issue of the personal participation of candidate Pablo Kuczynski is a no protest [against] the other candidate. I think the protest is just, the principles are just but if I am there it would seem as if I don't want this election and I think that would be wrong on my part," he declared.
The poll came shortly after a scandal involving one of Keiko's former to aides, who resigned from her centre right Fuerza Popular party (Popular Force) following media reports that linked the two to money laundering, accusations which have both been denied.