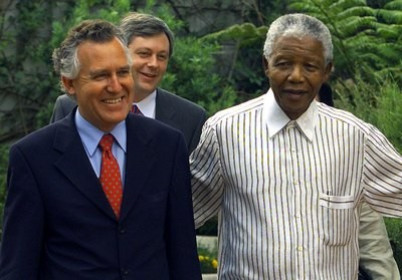 When MPs rose in the Commons this week, falling over themselves to speak of their friendship with and/or admiration for Nelson Mandela, there was one name that kept cropping up - one man who did not have to compete in the "my best friend" stakes.
The three party leaders, along with any number of backbenchers, all pointed to Labour's Peter Hain as someone who did more than anyone else in the Commons to help bring the evil of apartheid to the world's attention and, ultimately, contribute to its fall.
He was, understandably, the first MP to be called to speak after the leaders and his words showed that he retained the passion and commitment that drove him through the 1960s and 70s when his family were terrorised and driven out of their South African home to flee to the UK because of their support for Mandela and the ANC.
And he used his few minutes during the tributes to Mandela to put a few things straight. Notably, what he saw as a pretty unedifying attempt by some Tories and supporters to rewrite their history over apartheid and their opposition to Mandela and the ANC.
In many ways that speech brought his political career full circle. His activism started in South Africa at the age of 15 or even younger, and took him through the anti-apartheid movement, membership of the Liberal party, then Labour and on to a series of posts in government before a controversy over his deputy leadership campaign funds saw him standing down from the frontbench, then finally returning as Welsh Secretary.
Now, at the age of 62, he was commemorating the life of his "friend and hero" who had inspired him half a century before.
Hain was born in Kenya in 1950 but grew up in South Africa. His parents were supporters of the ANC and when Mandela appeared in court before his long jail sentence he would give the clenched fist salute to his black supporters and then to a solitary white person, Hain's mother Adelain. The security forces had the family marked.
The stories about the harassment, jailing and "banning" of his parents are well known, chilling and in some ways laughable. The banning order, for example, meant they were not allowed to talk to another banned person, so an exception had to be made for his parents to allow them legally to speak to each other.
Probably unsurprisingly, Peter Hain was being radicalised almost as he was learning to walk and at the age of 15 made a speech at the funeral of an activist friend hanged for bombing a railway station. Shortly afterwards, with his architect father banned from working and with routine harassment from security forces continuing, the family fled to the UK where he became the leading activist in the anti-apartheid movement and the campaign to stop all sports tours of South Africa, who banned blacks from their own teams.
Activities including disrupting tennis, cricket and rugby games by running onto the pitch or digging up turf beforehand. The campaign successfully disrupted a Springbok rugby tour of the UK and led to the cancellation of a tour by the South African cricket team in 1970.
His activities made him plenty of enemies in the UK and, despite having left his home country, the South African security forces still had him in their sights.
He received a letter bomb in 1972 which failed to detonate and in 1975 was framed by the Bureau for State Security, BOSS as it was universally known, for robbing a branch of Barclays bank, but was acquitted after a high-profile Old Bailey trial.
Initially he was attracted to the Liberal party and became chair of the Young Liberals, then a radical and active movement. But by 1977 Neil Kinnock had persuaded him to move across to the Labour party where he kept up his left-wing activism, becoming a founder of the Ant-Nazi League for example.
He had a sometimes difficult relationship with Kinnock when he became leader and there was some resistance to him from within the party itself although he eventually became MP for Neath in 1991.
He was given his first government job in the Welsh Office by Tony Blair in 1997 then the Foreign Office two years later. Eventually, in 2002 he was given his first cabinet post as Welsh Secretary and, in subsequent years, had the jobs as Commons leader then Northern Ireland Secretary added to his portfolio.
Ultimately, in 2007 he was made Work and Pensions Secretary as well as Welsh Secretary and advocated controversial moves to encourage large numbers of benefits claimants back into work.
But his career was hit by a major controversy after his unsuccessful bid in 2006 to become deputy Labour leader, a job won by current holder Harriet Harman. It emerged he had failed to declare £100,000 worth of donations and was referred to the Electoral Commission and then the Metropolitan Police.
Hain insisted the incident had been a case of administrative error, partly caused by the fact he was also running government departments at the time, and apologised for it. But he also stood down from the cabinet.
After the Crown Prosecution Service announced there would be no proceedings against him he reacted bitterly, calling for a top-to-bottom review of funding regulation.
Those who knew him saw he had been angered and disappointed by the affair and he told one newspaper: "It hasn't been pleasant. In fact, it's been a bloody nightmare year. The worst thing has been the not knowing. The grind of having it drag on and on."
He was returned to cabinet as Welsh Secretary by Gordon Brown in 2009 and continued to shadow the post after the 2010 election. He announced he was quitting frontline politics in 2012.
Hain has had a long, active and successful political career, albeit not free from controversy. But few doubt his most notable achievement was forcing the name Nelson Mandela into the forefront of the British consciousness.