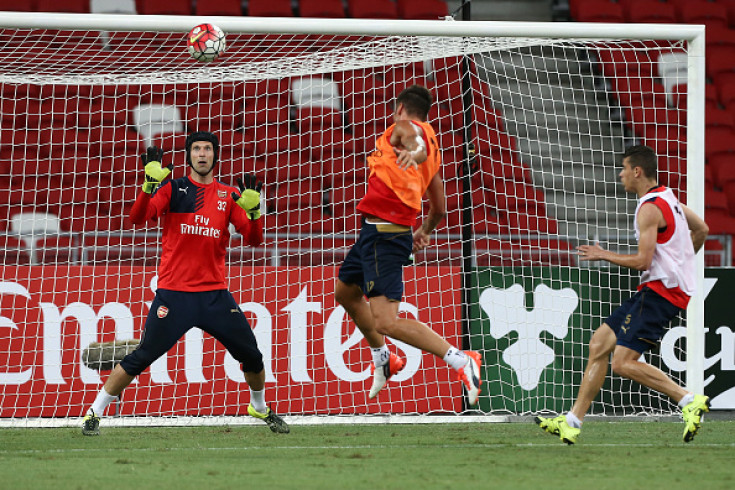 Arsenal summer signing Petr Cech believes that there is not much difference between the Gunners and Chelsea and that only "little details" separate the two sides as the north London club look towards another season to challenge for the Premier League title.
The Czech Republic international made his way to Arsenal after being shunted to the bench, following the emergence of Thibaut Courtois, where he spent a major part of the previous campaign. However, the 33-year-old talked with owner Roman Abramovich who allowed him the opportunity to move to the Emirates, citing his 11 years of unrelenting service to the club.
The 'keeper has already won his first medal with Arsenal in the first game, lifting he Barclays Asia Trophy in Singapore after beating Everton 3-1 in the final. However, Cech has revealed that he is looking to push on next season and be on the winning side when his team face Chelsea in the Community Shield and the league.
"There are a lot of things in common. What I've found is a group of players who work very hard and are focused on what they are doing on the pitch to get ready. I've found the team spirit quite extraordinary. Everybody pulls in the same direction, which is why I believe we will have a successful season. If you have a game with two big teams it's decided by the little details," Cech told the Telegraph.
"In all those games Chelsea were on top we managed the little details better. I hope to be on the winning side again. It's as simple as that. I play football to win games.
"We have a good balance. We have players with a lot of experience, who have won the World Cup for example, and young players who want to prove their point and play as much as possible. We have experienced players and hungry players so that balance gives us an advantage," he added.
Cech won his fourth Premier League title with the Blues last year and Arsenal fans will be hoping that he can use his experience and lead the Gunners to a similar fate next season, as they have failed to lift the title in over a decade.