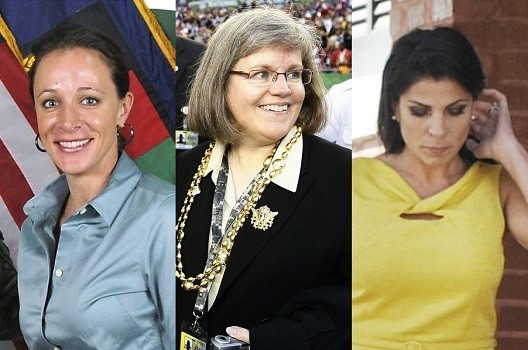 The wife of disgraced former-CIA director David Petraeus is said to be 'furious' at her husband, as details of the four-star Army general's extramarital affair with his biographer emerged amid an ever-growing scandal.
Petraeus resigned from his position at the head of the CIA at the end of last week, during a FBI investigation in which it emerged he had been in an extramarital relationship with reporter and fellow West Point military graduate Paula Broadwell from August 2011 to March this year
Retired US Army Colonel and former spokesman for Petraeus Steve Boylan told ABC that the general acknowledged his relationship with Broadwell was a "colossal mistake," and is now facing the fury of his wife Holly in their home in Arlington, Washington.
"Well, as you can imagine, she's not exactly pleased right now. In a conversation with David Petraeus this weekend, he said that, 'Furious would be an understatement.' And I think anyone that's been put in that situation would probably agree. He deeply hurt the family," Boylan said.
"[He] deeply regrets and knows how much pain this has caused his family," Boylan added. "Knowing the family, I suspect it will be hard work, but given the effort, they will get through it."
Petraeus, 60, and wife Holly had been married for 36 years when the relationship between the then-CIA director and 40-year-old reporter Broadwell began last summer.
In March, when the extramarital affair was reportedly still ongoing, Petraeus publicly praised the mother of his two children, who had followed him throughout all his career, moving home 23 times in 36 years. He said she was "the greatest source of support, wise counsel, and love that any soldier could have."
"After being married for over 37 years, I showed extremely poor judgment by engaging in an extramarital affair. Such behaviour is unacceptable, both as a husband and as the leader of an organisation such as ours," Petraeus said announcing his resignations from CIA director.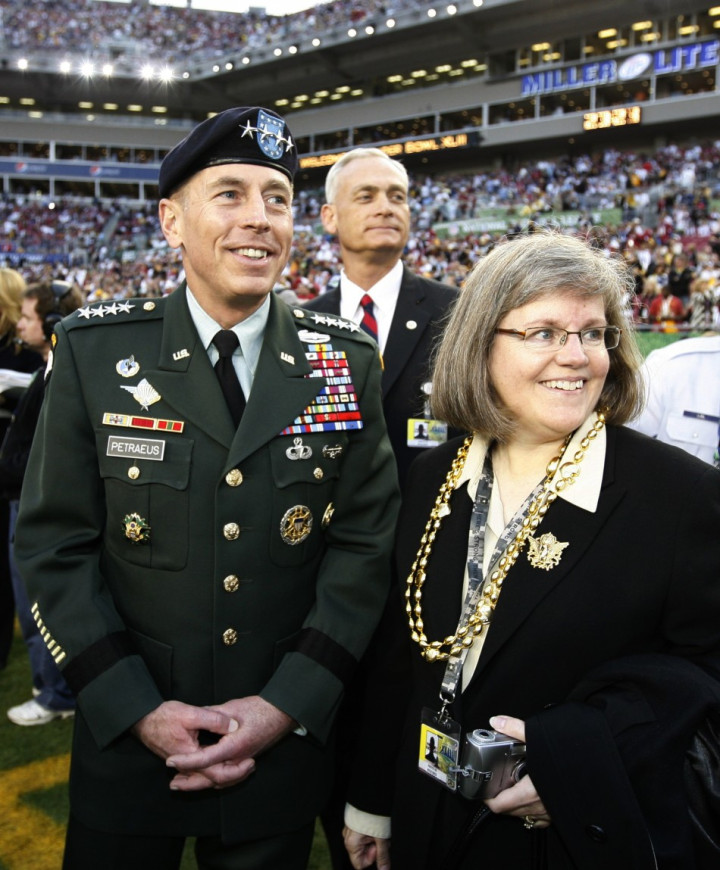 Broadwell spent months following Petraeus to write his biography, claiming she had "unprecedented access" to the general.
This "unprecedented access" triggered wide speculation and concern that Broadwell was shown or somehow saw classified information.
In a recent video, the woman is seen giving an unheard version of the attack on the American consulate in Benghazi, Libya that killed four people, including US ambassador Chris Stevens, earlier this year.
"I don't know if a lot of you have heard this, but the CIA annex had actually taken a couple of Libyan militia members prisoner and they think that the attack on the consulate was an effort to get these prisoners back," Broadwell said in a speech at Denver University last month, the CNN reported.
The revelation provoked widespread surprise, given that Broadwell's account differed starkly from the official US version of events.
However official sources told CNN that Broadwell's version had no factual basis. Moreover it is not clear that she got the information from the former CIA director.
Petraeus was due to appear before Congress this week to explain what really happened in Benghazi, following widespread criticism of US authorities for failing to anticipate the attack. His testimony has been cancelled following his resignation from the CIA, but it is possible that he will still be called at a later date.
"David Petraeus testifying has nothing to do with whether or not he's still the CIA director, and I don't see how the CIA can say he's not going to testify. [He is] an absolutely essential witness, maybe more than anybody else," Homeland Security Committee chairman Rep. Peter King told CNN's "Erin Burnett OutFront".
The FBI unearthed the Petraeus-Broadwell affair while investigating a cyber-harassment complaint the agency received from another woman, 37-year-old Jill Kelley.
Kelley went to the FBI after receiving numerous emails from an mystery sender, ordering her to stay away from an unnamed man, believed to be Petreaus. The Bureau's inquiry revealed that the messages had come from Broadwell.
Kelley is a volunteer social liaison with military families at MacDill air force base in Tampa, Florida, where Petraeus was in command until 2010. However she insists her relationship with the general is strictly platonic, while Petraeus has admitted having an affair only with Broadwell.
To add to the mystery, authorities are now investigating up to 30,000 pages of e-mails between Kelley and General John Allen - the man who took over from Petraeus when he resigned his position as chief of Allied forces in Afghanistan to become CIA director last July.

However the email content has yet to be disclosed.