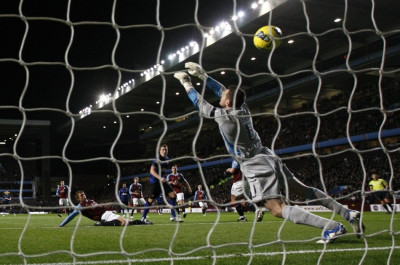 One goal with three valuable points, the Red Devils are very much in the reckoning.
Sir Alex Ferguson's boys defeated Aston Villa at Villa Park on Saturday evening, with Phil Jones volleying in Nani's left wing cross on 20 minutes. The finish marks his first in senior professional football.
Villa's abjectness in the first half came in handy for the Reds. Alex McLeish's side have managed to put up a better show in the second half but United clung on to earn all three points.
Fergie's fighters have thus regained the second slot in the Premier League table with 33 points, still a good five points away from neighbours Manchester City who top the League.
But when they travel to Basel in midweek, the Reds are likely to miss Javier Hernández, who was carried off on a stretcher at Villa Park with a left ankle injury. Sir Alex said: "I think he's torn ligaments in his ankle, so he could be out for four weeks."
Here are some of the breathtaking moments from the fixture: