Phil Mickelson started the 2016 Ryder Cup at Hazeltine in similar fashion to how he left off two years ago – by throwing a former United States captain under the bus. The five-time major champion tore apart Tom Watson's reign during a remarkable outburst at Gleneagles two years ago and has wasted little time in laying siege on another past skipper.
The latest to fall foul of Mickelson is Hal Sutton, who led Team USA at the 2004 event at Oakland Hills, which saw the United States suffer their heaviest defeat in Ryder Cup history. Sutton paired Mickelson with then world number two Tiger Woods in Michigan, sending them out in the opening four-ball on day one, and then in the afternoon foursomes.
But Mickelson and Woods were unable to inspire the American team, losing 2&1 to Colin Montgomerie and Padraig Harrington, before Darren Clarke and Lee Westwood won 1UP on a harrowing day for the hosts. The European team, captained by Bernhard Langer, went on to claim an emphatic 18<sup>1/2-9<sup>1/2 win, which remains the largest margin of victory in history.
But it has now emerged that one of the primary reasons behind Mickelson and Woods – who have not played together at the Ryder Cup since – failing to connect was down to Sutton choosing to put them together at the 11th hour. Mickelson, 46, was forced to learn a different ball tailored to Woods' specification in the days leading up to the matches, giving him minimal time to prepare.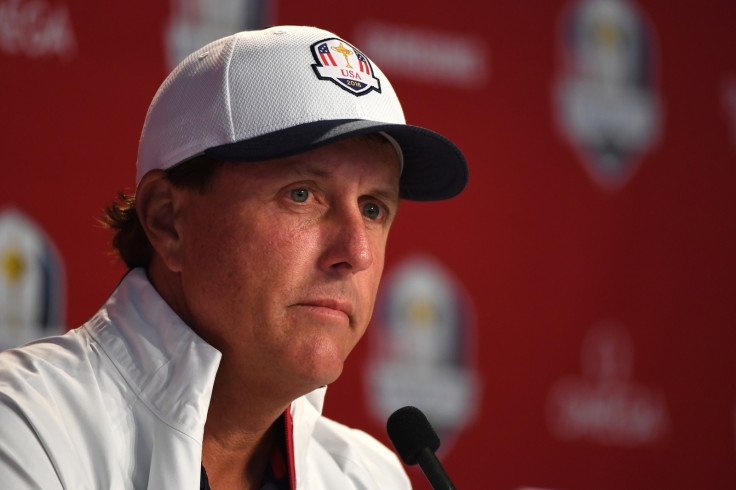 "We were told two days before that we were playing together," said Mickelson, who is playing in a record 11th Ryder Cup. "And that gave us no time to work together and prepare. He [Woods] found out the year before when we played at The Presidents Cup in 2003 that the golf ball I was playing was not going to work for him.
"He plays a very high-spin ball and I play a very low-spin ball, and we had to come up in two days with a solution. And it forced me to stop my preparation for the tournament, to stop chipping and stop putting and stop sharpening my game and stop learning the golf course, in an effort to crash-course and learn a whole different golf ball that we were going to be playing.
"And in the history of my career, I have never ball-tested two days prior to a major. I've never done it. It doesn't allow me to play my best. Had we known a month in advance, we might have been able to make it work. I think we probably would have made it work. But we didn't know until two days prior.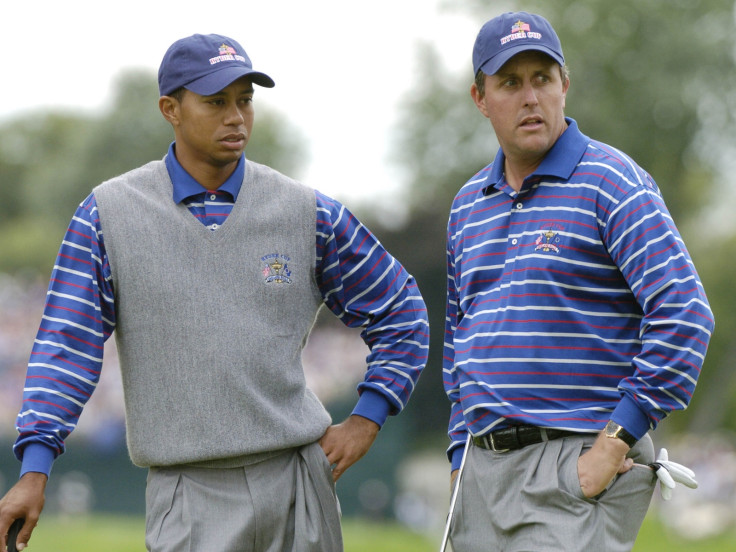 "I'm not trying to knock anybody here, because I actually loved how decisive Sutton was. I feel like that's a sign of great leadership to be decisive. Had we had time to prepare, I think we would have made it work and could have had some success. But that's an example of starting with the captain, that put us in a position to fail and we failed monumentally, absolutely."
The criticism of Sutton comes after Mickelson slammed the approach of Watson in 2014 – leading to the formation of a taskforce charged with improving the team's fortunes for Hazeltine. The group comprised of 11 past captains, players and PGA Tour leaders, who worked to ensure the 12 players selected this year are fully invested in the fortunes of the American team.