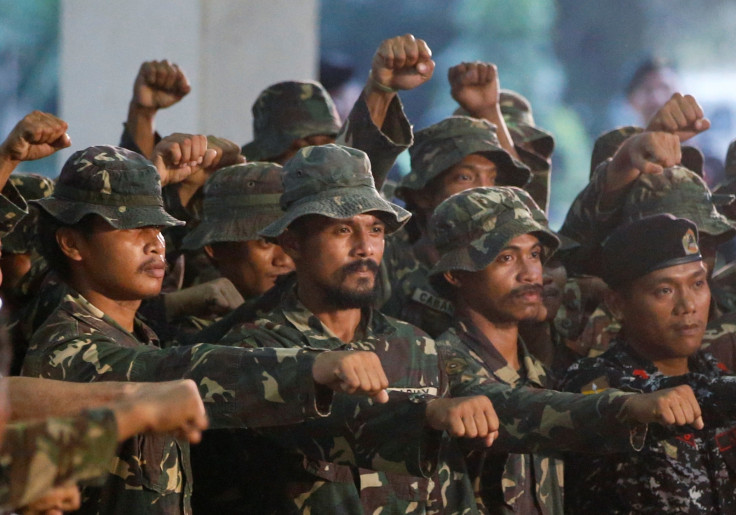 The Philippines' military has launched a major offensive against Islamic State-linked militants, who had carried out a deadly bombing attack in Davao city in September killing 15 people. As many as 100 militants belonging to the Maute group are under siege in Butig town in Lanao del Sur.
At least 11 militants have been killed so far and dozens of others are thought to be hiding inside multiple locations including an unoccupied Islamic school in the south of Butig, a town which was once a stronghold of the militants but was captured by the armed forces. Local reports suggest the Maute group is flying Islamic State (Isis) flags in the occupied buildings.
As soon as the Maute Islamic insurgents entered the town to escape the military's assault, residents of Butig, which has a population of about 17,000 people, began evacuating. The counter-terror operations launched on Thursday, 24 November, have since been stepped up.
The ground forces' offensive is also buttressed by bomber aircraft as the military hunts for two key leaders – brothers Omarkhayam and Abdullah Maute. Helicopters are swirling above the region and have fired rockets to flush out the militants. Reinforcements have also been sent into the besieged town. Two soldiers have been injured in exchange of gunfire.
"The armed forces of the Philippines have launched an operation to chase after the Maute leaders," said the Philippines military spokesperson Brigadier-General Restituto Padilla.
Maute is one of the many Islamic groups active in the southern parts of the Philippines which have pledged allegiance to the IS. "They have long been professing allegiance to the foreign terror group. This is still part of the Maute group's agenda in courting support and encouraging similar-minded individuals to support IS," said another military spokesperson Colonel Edgard Arevalo.