Philippines' Mayon Volcano 'Hazardous Eruption' Imminent: Thousands Evacuated as Critical Alert Raised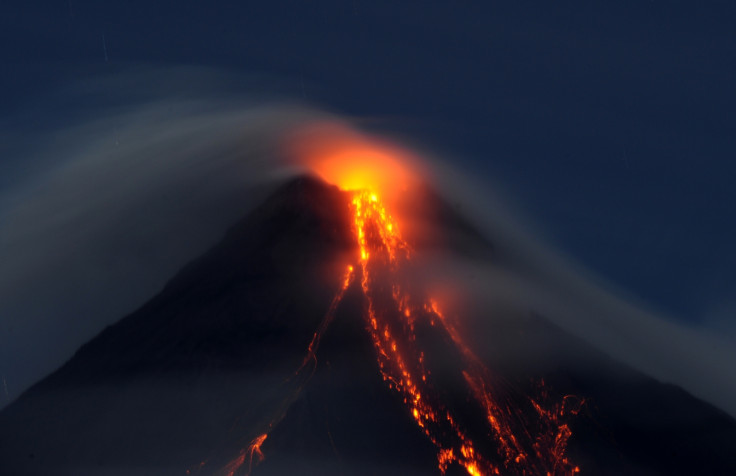 On 16 September 2014, authorities in the Philippines ordered the evacuation of around 12,000 people living near one of the island nation's most active volcanos, as it has begun to show signs of heightened seismic activity.
Government scientists warned that a "harazdous eruption" could take place within weeks.
The Philippine Institute of Volcanology and Seismology raised the alert level to "critical" for Mt Mayon, situated in the province of Albay on Luzon island, after recording a 15-hour period of unrest. There were 32 low frequency earthquakes and several incidents of hot rocks falling in the summit area.
On a five-level scale, the warning is on three, meaning there is "relatively high unrest". In August 2014, a new 30m to 50m high lava dome appeared in the summit crater and there has been an increase in hot volcanic gases emitted.
"Mayon is exhibiting relatively high unrest... magma is at the crater and [a] hazardous eruption is possible within weeks," head of the volcanology agency, Renato Solidum, told AFP.
Regional civil defence director, Bernardo Alejandro said residents living within the volcano's six to eight-kilometre radius, which has been designated an "extended permanent danger zone", will be forcibly evacuated.
A local official told a televised press conference that 120 people had already been moved away. According to disaster management officer Jukes Nunez, disaster councils across the region have met to organise a plan to avoid casualties.
Mayon is located around 210 miles southeast of Manila and has erupted more than 40 times over the past 400 years. The worst eruption took place in 1841, killing 1,200 people.
It is one of the most active volcanoes in the Philippines and also a popular tourist attraction. In 2013, ash from the volcano killed five hikers, including three Germans who ventured within six-kilometres of the summit, which is a permanent danger zone.
© Copyright IBTimes 2023. All rights reserved.