Britain will forge trade deals around the world and not "slink off like a wounded animal" if it fails to secure guarantees from the European Union, Philip Hammond has said. Prime Minister Theresa May will start formal Brexit negotiations when she triggers Article 50, which is expected to occur before the end of March.
May's announcement will fire the starting gun on two years of deal making between the EU and the UK, before the latter officially leaves the economic and policial alliance in 2019.
Talks are expected to be fraught as both sides look to make the best deal possible, but Hammond warned European leaders that Britain would turn to global partners if the final terms did not suit the country.
"I've been clear and the prime minister has been clear, I want to do a deal with the European Union and we expect to do a deal with the European Union that will allow us to continue trading together and allow our economy to remain recognisably in the European mainstream," he said on The Andrew Marr Show on Sunday (5 March).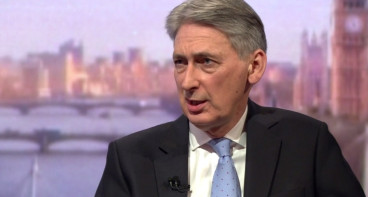 "The point I was making was if there is anyone in the European Union who thinks that if we don't do a deal with the European Union, if we don't continue to work closely together, Britain will simply slink off like a wounded animal. That is not going to happen. The British people have a great fighting spirit and we will fight back.
"We will forge new trade deals around the world we will build our business globally we will go on strength to strength and we will do whatever we need to do to make the British economy competitive and to make sure that this country has a great and successful future."
Hammond, who announces his first full Budget on Wednesday (8 March), said he did not expect that to be the outcome and predicted a comprehensive deal would be struck.
'Reserves in the tank'
Reports in the Sunday Times claimed Hammond was preparing a "£60bn war chest" that would be used to stabilise the economy from any Brexit shocks.
A fall in borrowing and 2% growth forecast this year would give the chancellor more firepower than he thought, it was claimed, but Hammond said he would be turning on the spending taps and would instead take steps to build an economy that "works for everybody" and was prepared for any Brexit shocks.
"First of all, it's not money in the wallet because we are borrowing a lot of money. Remember, we have £1.7tn worth of debt, we are spending more than £50bn a year just paying the interest on our debt. That is more than we spend on defence and overseas aid together. So this isn't money in a pot.
"What is being speculated on is whether we might not have borrowed quite as much as we were forecast to borrow. But if your bank increases your credit card limit I don't think you feel obliged to go out and spend every last penny of it immediately."
The economy, Hammond added, should be "resilient with reserves in the tank".
'T levels'
To plug the country's skills gap, Hammond pledged to do more to train young workers in the form of a new T level qualification, which puts technical training on par with A levels. The chancellor admitted the government needed to do "significantly more" in training and upskilling young people.
"For some people, they will study A levels at school and go on to higher education and academic route. Others will take a technical route. What we need to do like others and the US and Germany have done years ago is create a technical route that is as rigorous as clear in the qualifications that are achieved, as well understood by young people and employers as the academic route is."