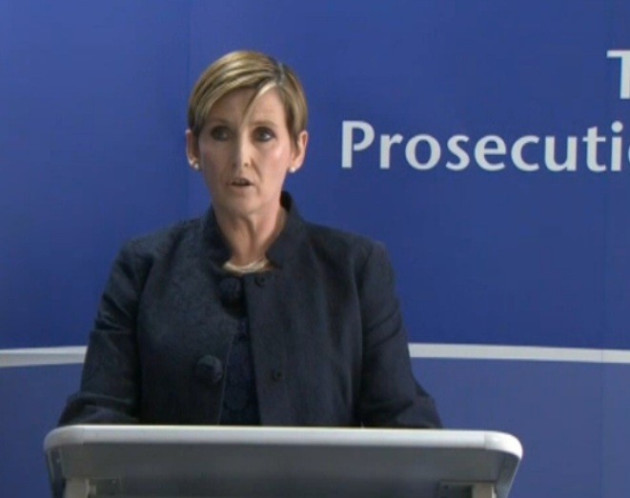 Statement from Alison Levitt QC, principal legal adviser to the Director of Public Prosecutions (DPP):
"This statement is made in the interests of transparency and accountability to explain the decisions reached in relation to Operation Weeting.
"During June and July 2012, the Crown Prosecution Service received files of evidence from the Metropolitan Police Service, relating to thirteen suspects. This has followed a period of consultation and cooperation between police and prosecutors which has taken place over many months.
"All the evidence has now carefully been considered. Applying the two-stage test in the Code for Crown Prosecutors I have concluded that in relation to eight of these thirteen suspects there is sufficient evidence for there to be a realistic prospect of conviction in relation to one or more offences.
"I then considered the second stage of the test, applying the DPP's interim guidelines on assessing the public interest in cases involving the media, and I have concluded that a prosecution is required in the public interest in relation to each of these eight suspects.
"The eight who will be charged are: Rebekah Brooks, Andrew Coulson, Stuart Kuttner, Glenn Mulcaire, Greg Miskiw, Ian Edmondson, Neville Thurlbeck and James Weatherup.
"They will face a total of nineteen charges in all. The full wording of all the charges will be made available, which will include the names of others whom the prosecution say are victims, but for now I shall summarise them as follows.
"All, with the exception of Glenn Mulcaire, will be charged with conspiring to intercept communications without lawful authority, from 3rd October 2000 to 9th August 2006. The communications in question are the voicemail messages of well-known people and/or those associated with them. There is a schedule containing the names of over 600 people whom the prosecution will say are the victims of this offence.
"In addition, each will face a number of further charges of conspiracy to unlawfully intercept communications, as follows:
Rebekah Brooks, former editor, will face two additional charges:
the first relates to the voicemails of the late Milly Dowler
the second to the voicemails of Andrew Gilchrist
Andrew Coulson, former editor and deputy editor, will face four additional charges, relating to the following victims:
Milly Dowler
the Rt Hon David Blunkett MP
the Rt Hon Charles Clarke, and
Calum Best
Stuart Kuttner, former managing editor, will face two additional charges, relating to:
Milly Dowler and
the Rt Hon David Blunkett MP
Greg Miskiw, former news editor, will face nine further charges, relating to the following victims or groups of victims:
Milly Dowler
Sven-Goran Eriksson
Abigail Titmuss and John Leslie
Andrew Gilchrist
the Rt Hon David Blunkett MP
Delia Smith
the Rt Hon Charles Clarke
Jude Law, Sadie Frost and Sienna Miller, and
Wayne Rooney
Ian Edmondson, former news editor, will face a further eleven charges, relating to the following victims or groups of victims:
the Rt Hon David Blunkett MP
the Rt Hon Charles Clarke
Jude Law, Sadie Frost and Sienna Miller
Mark Oaten
Wayne Rooney
Calum Best
the Rt Hon Dame Tessa Jowell MP and David Mills
the Rt Hon Lord Prescott
Professor John Tulloch
Lord Frederick Windsor
Sir Paul McCartney and Heather Mills
Neville Thurlbeck, former chief reporter, will face a further seven charges in relation to the following victims or groups of victims:
Milly Dowler
Sven-Goran Eriksson
the Rt Hon David Blunkett MP
the Rt Hon Charles Clarke
Angelina Jolie and Brad Pitt
Mark Oaten
the Rt Hon Dame Tessa Jowell MP and David Mills
James Weatherup, former assistant news editor, will face a further seven charges in relation to the following victims or groups of victims:
the Rt Hon David Blunkett MP
the Rt Hon Charles Clarke
Jude Law, Sadie Frost and Sienna Miller
Angelina Jolie and Brad Pitt
Wayne Rooney
the Rt Hon Lord Prescott
Sir Paul McCartney and Heather Mills
For legal reasons, Glenn Mulcaire, private investigator, does not face the first of these charges. However, he will face four charges, relating to:
Milly Dowler
Andrew Gilchrist
Delia Smith, and
the Rt Hon Charles Clarke