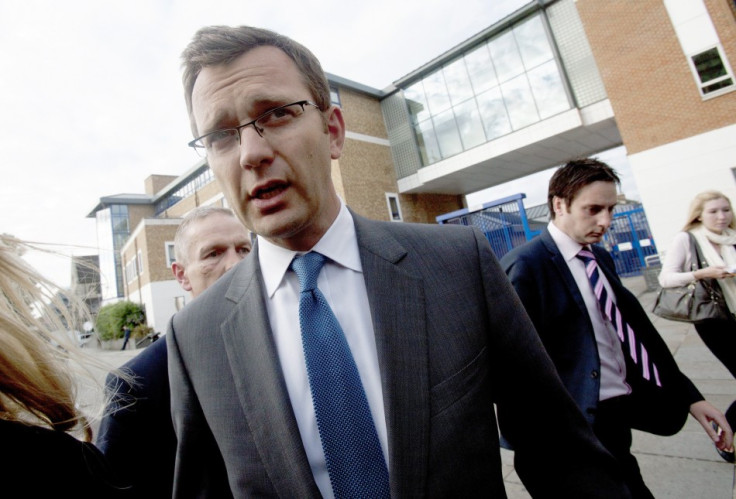 As another person is arrested as part of Operation Weeting - Scotland Yard's probe into phone hacking - the tally rises to 16 in what has been a busy year for the investigating officers.
The latest arrest took place on 7 December, when a 41-year-old man was apprehended in London in connection with phone hacking and perverting the course of justice.
Reports suggest it is disgraced private investigator Glenn Mulcaire, who was jailed for phone hacking in 2007.
The 120 Metropolitan Police officers working on Operation Weeting, which started in January and has cost around £3 million so far, are trawling through 300 million e-mail messages relating to News International.
The arrests have yet to result in anyone being charged, so police are not officially confirming any names.
Nevertheless, the identities of those arrested in connection with the police investigation soon find their way into the press.
The Sunday tabloid News of the World (NotW) has been embroiled in the scandal, in which it was revealed that people working for the paper hacked murdered schoolgirl Milly Dowler's phone. The revelations led to the paper's closure by owner Rupert Murdoch in July.
As well as Weeting, there are two other Metropolitan Police investigations looking into press activity.
Operation Elveden is investigating corruption, as it explores inappropriate payments to police officers.
The other, Operation Tuleta, is investigating computer hacking.
International Business Times UK takes a look at the Weeting arrests so far.
April
It was not until 5 April, around three months after Operation Weeting started, that the first arrests were made.
A 42-year-old man and a 50-year-old man were arrested on suspicion of unlawfully intercepting mobile phone messages.
Ian Edmondson, former NotW assistant news editor, who was sacked from the paper in January, and Neville Thurlbeck, a senior reporter on the same title, were the two arrested.
They were bailed.
Later that month on 14 April, James Weatherup, NotW assistant news editor, was arrested and bailed.
June
On 23 June, the Metropolitan Police headed north to West Yorkshire, where a 39-year-old woman was arrested on suspicion of "conspiring to intercept communications".
She was bailed pending further inquiries due in December, according to the police.
The woman is believed to be freelance journalist Terenia Taras, who has written for the NotW and was a former girlfriend of Greg Miskiw, the paper's news editor.
On 27 June, Laura Elston, a 34-year-old Press Association royal correspondent, was arrested and bailed.
Police later cancelled her bail and dropped her from the inquiry.
July
This was a big month for Operation Weeting, as some of the NotW's most senior staff were arrested.
On 8 July, together with officers from the parallel investigation Operation Elveden, which is looking into corrupt payments to the police, officers from Operation Weeting arrested two of the biggest names in the phone hacking saga.
Andy Coulson, former NotW editor and Downing Street press man, was arrested and bailed. He's now in a battle with News Group Newspapers, which owned NotW, over who will pay his legal fees.
Clive Goodman, ex-royal editor of NotW, who was jailed in 2007 for hacking into Prince William's phone, was also arrested and bailed.
A 63-year-old man was further arrested on the same day, in connection with allegations of corruption, though his identity remains unknown.
All three are due back at police stations in March 2012.
Two further arrests took place in July.
On 14 July, Neil Wallis, former NotW executive editor, was arrested in connection with allegations of phone hacking and bailed until March 2012.
Rebekah Brooks, who edited the NotW and The Sun before becoming News International chief executive, was arrested on 17 July in connection with Operations Weeting and Elveden and bailed until March, like the others.
She was arrested at a police station after attending a prearranged appointment.
Her lawyers insisted that no evidence linking her to any crime was produced.
August
On 2 August, Stuart Kuttner, former NotW managing editor, who had worked at the paper for over 20 years, was arrested and bailed until March 2012 as part of Weeting and Elveden.
Three other arrests followed in August.
NotW news editor Greg Miskiw (10 August), NotW Hollywood editor James Desborough (18 August) and NotW features writer Dan Evans (19 August) were all arrested in connection with allegations of phone hacking.
All three were bailed until March 2012.
September
An unnamed 30-year-old man was arrested on 2 September, by appointment at a police station, on suspicion of conspiracy to intercept voicemail and attempting to pervert the course of justice.
He was bailed until mid-January 2012.
Deputy sports editor at The Times, Raoul Simons, was arrested on 7 September on suspicion of conspiracy to intercept voicemail and bailed until March 2012.
November
Operation Weeing made only one arrest during this month, when Bethany Usher, a former NotW reporter and now a journalism lecturer at Teeside University, was arrested in Northumberland on 30 November on suspicion of conspiracy to intercept voicemail.
She has now been dropped from the inquiry and no further action will be taken against her by police.
December
Officers from Operation Weeting arrest a 41-year-old man in London on 7 December in connection with phone hacking and perverting the course of justice. He is thought to be Glenn Mulcaire.