Thousands of homes near Los Angeles were evacuated as two massive wildfires raged in tinder-dry hills and drought-parched canyons north of the city. Flames raced down a steep hillside "like a freight train," leaving smouldering remains of homes, and a burned body was found in one neighbourhood swept by the flames. LA County fire Chief Daryl Osby said: "For this time of year, it's the most extreme fire behaviour I've seen in my 32-year career."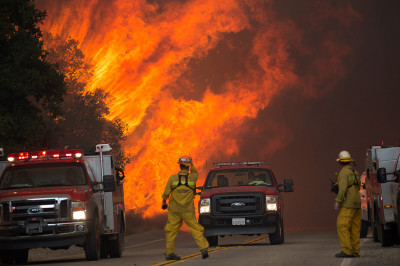 "The fire's just doing what it wants right now," US Forest Service spokesman Nathan Judy said. "We have to stick back, let it do what it wants to and attack it where we can." The so-called Sand Fire has ripped through brush withered by days of 100-degree temperatures and years of drought. Whipped up by strong winds, the fire gained ferocious new power two days after it broke out, sending so much smoke in the air that planes dropping water on it had to be grounded.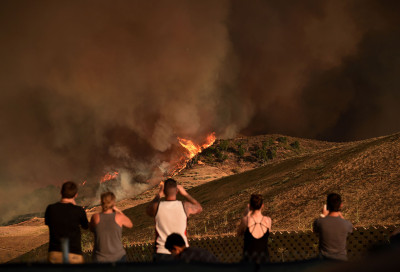 "It started consuming houses that were non-defendable," Los Angeles County Deputy Fire Chief John Tripp said, describing the flames as charging through terrain "like a freight train."
The body of a man was discovered in a burned car outside a home on Iron Canyon Road in Santa Clarita, and detectives are trying to determine whether the person was killed by the blaze or another cause, Los Angeles County sheriff's Lt Rob Hahnlein said. The home also may have burned, he said.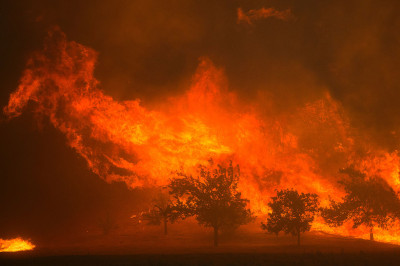 The Southern California blaze has blackened at least 46 square miles of brush near the city of Santa Clarita. Osby said the size estimate could grow considerably once better assessment is done.
The fire destroyed film sets at Sable Ranch in Santa Clarita, which has Old West-style buildings used for film locations. It also forced a non-profit sanctuary for rescued exotic creatures to evacuate 340 of its more than 400 animals, including Bengal tigers and a mountain lion. "It was a horrific firestorm," owner Derek Hunt told KABC-TV. "At some point, you know you're defeated and you have to step back and save what you can. We fought as best as we could."
About 300 miles up the coast, crews were battling another fire spanning more than 17 square miles that destroyed six homes and forced evacuations outside the scenic Big Sur region.