Zayn Malik stunned millions of fans and faced intense scrutiny from industry heavyweights when he walked away from the world's biggest boyband in March 2014. But almost a year on, it looks like the 23-year-old heartthrob's gamble has paid off. The Bradford-born singer has made history after becoming the first UK artist to go straight to the top of the US charts with a debut single.
Malik's sexy R'n'B track Pillowtalk went straight to the top on the Billboard Hot 100 after climbing the charts in over 60 countries on the iTunes charts. As an added bonus the track, which was released on 29 January on RCA Records, is also top of the On Demand Songs charts, the U.S. Digital Songs Chart and the UK singles sales chart.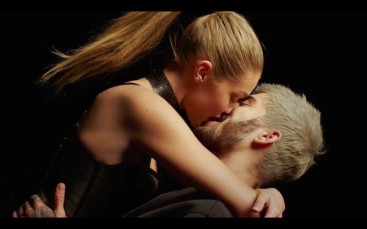 The impressive feat means that he has eclipsed One Direction. The group's highest ever chart entry was No 2 with Best Song Ever in 2013. Pillow Talk is now the 25th song ever to debut at No 1 in the Hot 100, joining the likes of Adele's Hello and Elton John's Candle in the Wind.
Malik, who enjoys some steamy kisses from his new girlfriend Gigi Hadid in the accompanying music video, couldn't hold back his excitement on Twitter: "What is gwaning :) !! I can't explain the love and gratitude i feel today, thank you for making this happen'" he wrote to his 17.7 million followers.
He later thanked fans for their continued support in statement that said: "We have achieved this together and I am grateful."
Earlier in January, Malik pre-empted that the raunchy direction of his new material would divide fans. "I think I'm pretty black and white about what it's about," he told the Sunday Times. "Everybody has sex, and it's something people want hear about. It's part of everybody's life, a very BIG part of life! And you don't want to sweep it under the carpet. It has to be talked about."
Considering his departure from the family-friendly music of 1D, he was pretty psyched about the astounding support, telling fans on twitter that he was "blown away". Malik's debut album Mind of Mine is due for release on 25 March, exactly one year after the announced his departure from One Direction.