#PillowTalk: Zayn Malik and Gigi Hadid seal romance with a kiss in ex 1D star's new video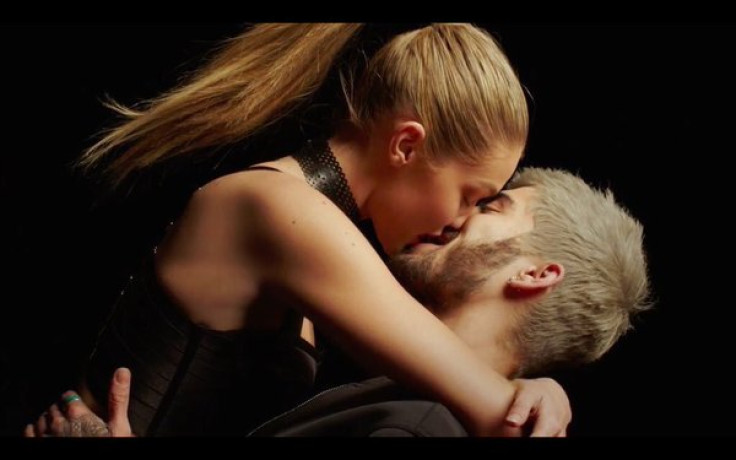 Aside from proving himself as a worthy solo singer post-One Direction, Zayn Malik has made a huge statement with the release of his debut single Pillow Talk. The former boy band star appears to have used the song's music video to confirm his relationship with model Gigi Hadid.
Pillow Talk, which premiered on 29 January 2016, distances Malik, 23, from the child-friendly music of 1D, with the music video featuring a naked woman and steamy kisses between the singer and Hadid, 20, whom he is rumoured to be dating. Although Malik coyly told Apple Music's Beats1 radio DJ Zane Lowe he and the model were just "good friends", the music video appears to suggest otherwise.
Pillow Talk is the lead single of Zayn Malik's debut solo album Mind Of Mine
RCA Records
One Direction fans may be surprised by the raunchy direction of Malik's new material but the singer did warn of the x-rated content in an interview with The Sunday Times, revealing: "I think I'm pretty black and white about what it's about. Everybody has sex, and it's something people want hear about. It's part of everybody's life, a very BIG part of life! And you don't want to sweep it under the carpet. It has to be talked about."
The artistic visuals were directed by award-winning film-maker Bouha Kazmi, responsible for Jay Z's On To The Next One video. Pillow Talk serves as the lead single from Malik's forthcoming debut album Mind Of Mine, which is yet to be given a release date. Teasing what can be expected of his first solo LP, Malik told Fader: "Once they hear it, I feel like they will understand me a little bit more. For 10 years, this album has been in my brain, and it's just been there, sat with me, needing to be out."
Malik quit One Direction in March 2015 leaving his bandmates Harry Styles, Niall Horan, Louis Tomlinson and Liam Payne, to carry on with their On The Road Again tour as a four-piece. In his interview with Lowe, Malik admits that he was never a fan of the type of music recorded by 1D and had wanted to leave the band after just one year.
The singer explained: "I always wanted to go, from the first year really. I never really wanted to be in the band. I just gave it a go because it was there at the time. I realised I couldn't put any input in. I couldn't give my opinion on this or that because it didn't fit the grain of what we were or what we represented."
Zayn Malik Pillow Talk
(8/10)
Being the first member to leave One Direction and repeatedly speaking of his desire to take his music in a different direction, excuse the pun, Zayn Malik was under immense pressure to deliver with his first offering as a solo artist. Pillow Talk is quite clearly the r'n'b music Malik has longed to record and, rather surprisingly, he has done it well.
Of course, with the help of some of the industry's most esteemed writers and producers, but Malik has proved himself to be an artist in his own right. With sex being the topic on the table, the lyrics aren't exactly the most complex but Malik does well within the realms of such explicit content. Pillow Talk is sure to be a chart-topper if not at least a top five on the charts and gives a lot of promise for what could be an incredibly impressive debut album.
Watch Zayn Malik's Pillow Talk music video:
© Copyright IBTimes 2023. All rights reserved.