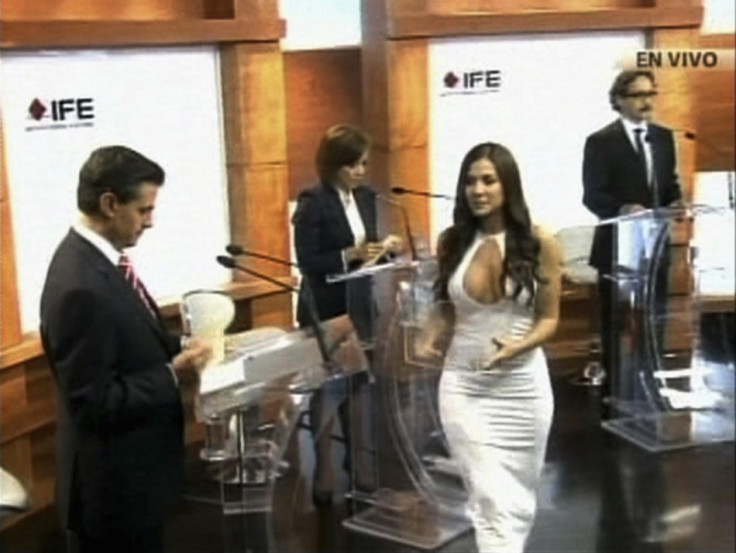 A Playboy model's tight dress and plunging neckline stole the show at the presidential debate on Mexican television on Sunday night.
Though the curvaceous model with revealing cleavage was flashed on the screen only for 17 seconds, it created much media frenzy with the incident even grabbing front page slots in most Mexican newspapers and websites on Monday morning.
Julia Orayen was carrying an urn containing cards mentioning the order of candidates to speak and distributing it prior to the debate. The debate was organised by the Federal Electoral Institute (IFE).
The Mexican Electoral Commission issued a statement stating that the woman's revealing white dress had distracted attention from key electoral issues.
"We are sorry about the production error associated with the clothing of one of the assistants during the first presidential debate and want to apologise to the citizens and the candidates for the presidency," a statement released by the commission said.
Social networking sites were flooded with messages about the appearance of the model at the debate.
Former Mexican Foreign Minister Jorge Castaneda tweeted: "The best was the girl in white with the cleavage at the beginning."
"It was my only choice for a long dress. I didn't think it would reveal as much or cause this much scandal. I learned I like myself better when I'm covered up," Orayen told the Cadena Tres TV network during an interview later.
She said that the instructions she got from the production team were to wear a long white dress, which she picked up from her own closet. "It is impossible not to concentrate your attention on a woman so spectacular," said Gabriel Quadri, a New Alliance Party candidate admitting that the model's appearance made him nervous.
According to the TV producer Jesus Tapia, the model was selected because of her pleasant, young and fresh presence and in the "madness of the moment," her dress was not checked.
Mexico is going for presidential polls in July and it was the first TV debate for the candidates.