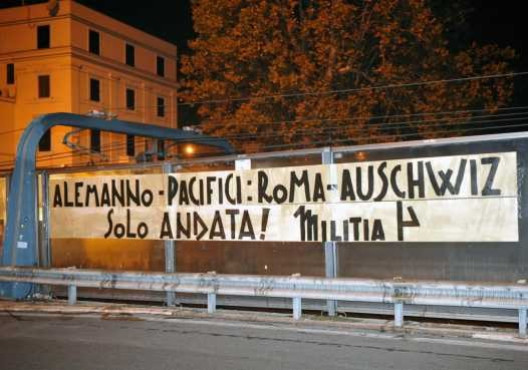 Five members of the neo-fascist organisation "Militia" were arrested by Italian authorities in Rome.
They are accused of planning criminal actions against the Jewish community in Rome and its president Riccardo Pacifici, Rome's Mayor Gianni Alemanno, the speaker of the lower chamber, Gianfranco Fini, and Senate President Renato Schifani.
Other charges include conspiracy crimes, spreading ideas based on racial and ethnic hatred, apology of fascism and procured alarm.
According to official documents released by the police, the militants wanted to start "a revolutionary war".
In November 2008, the group enrolled a shocking banner from Rome's St. Peter Bridge reading "Alemanno-Pacifici: take the one-way train Rome-Auschwitz".
Another banner read "Alemanno you are an infamous Zionist piece of s*it".
Under the Italian Constitution, the reorganisation of Benito Mussolini's Fascist Party under any form is forbidden.
Main targets of the far-right movement are former members of the Italian Social Movement (MSI), a neo-fascist political party formed in 1946 by supporters of Mussolini.
The MSI was formally dissolved and merged into the National Alliance in 1995 by Gianfranco Fini, current speaker of the lower chamber of Parliament, who downplayed the fascist origin of the party and transformed it into a more conservative and moderate party.
Rome Mayor Gianni Alemanno himself was a youth leader of the MSI. He was elected in Rome in 2008 with 54 per cent of the vote. A group of supporters gave him straight-arm salutes on the Capitol steps, shouting "Duce! Duce!", a clear reference to Mussolini. Just two years before Alemanno showed a television presenter a Celtic cross hanging from a chain.
But his support of Israel and the approval of conservative, moderate laws lost him the extremists' support.