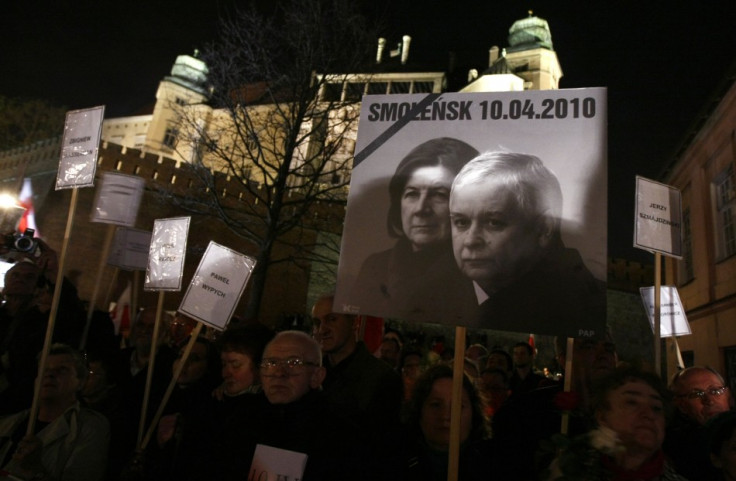 A Polish report has found that Russia was partly to blame for the air crash last year which killed then-President Lech Kaczynski.
While the report acknowledged that pilot error was the main reason behind the crash, it also blamed air controllers and poor lighting at Smolensk for the accident.
The crash killed a total of 96 people, many of them senior officials from the government, and increased tensions between Russia and Poland.
Warsaw first praised Moscow for its sensitivity and support after the crash but relations deteriorated as both countries tried to shift the blame on the other.
Also, soon after the Accident, R Jaroslaw Kaczynski, the twin brother of the later president also an opposition politician, has previously accused the country's Prime Minister Donald Tusk's government of a cover-up with Moscow, aiming at putting Tusk in power.
Mr Tusk however has always strongly denied the claims.
Russia released a report in January, citing Poland as the full responsible for the accident, claims that the country, while partly accepting the findings, say denies Russian's role and therefore remains "incomplete".
All the passengers on board of the TU-154 Tupolev, were killed when their airliner crashed while trying to land in heavy fog, with no survivors being found.
The official plane had been dispatched to take the officials to a memorial for the victims of Katyn, where 20,000 Polish officers were massacred by Soviet forces in 1940.
The new report released by Poland find that the pilot had lacked experience in landing aircraft in adverse weather conditions, and adds that the crew was poorly equipped to deal with such conditions and situation.
It also found that airport lighting was "defective and incomplete", while also revealing that a landing zone official had given "erroneous information" to the crew as they prepared to land in poor weather at the Russian city of Smolensk, which might have had disastrous consequences.
According to the report, air traffic controllers misinformed the crew about their true altitude while the plane was approaching to try and land and warning them of the danger they faced far too late
In its report earlier this year, Russia had said the crash was due to pilot error, blaming the crew for taking unjustified risks, which under pressure from their superiors.
Counter-attacking, the Russian claims however, the Polish report insists there is no evidence that Lech Kaczynski or anyone else on board had put pressure on the pilots or forced them to act against their will.
Poland's first couple - along with other leading political and military figures - had been on their way to a memorial ceremony for the World War II Katyn massacre when the crash took place on 10 April. There were no survivors.