England's World Cup qualifier against Poland has been postponed amid farcical scenes after a downpour left the National Stadium pitch waterlogged in Warsaw.
Both sides, who had opted to leave the roof open on the day of the game, will return on Wednesday at 4pm in an attempt to play, against the wishes of the Polish squad, who have several players featuring in domestic games on Friday.
Fifa officials granted an extension of 45 minutes after the scheduled kick-off to see if the game could be played but the referee, Gianluca Rocch,i had no choice but to call off the match nearly an hour after the scheduled start time.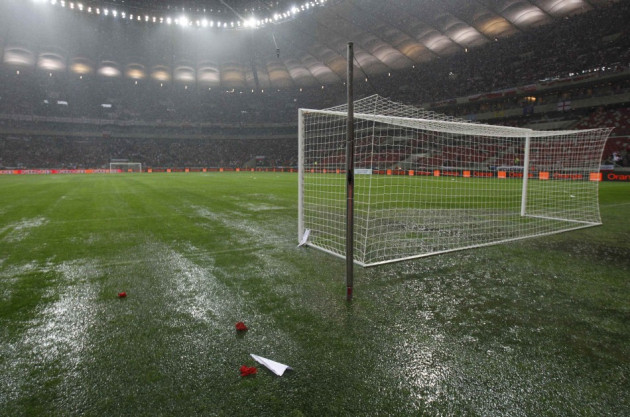 "I think it's the only decision that could have been made," manager Roy Hodgson said. "There are no other possibilities - you can't find dates at international level - the dates that are available are all taken up.
"You can't just suddenly decide we'll play at another time so you have to try and organise things and get the game played as quickly as possible.
"The players are disappointed because when you have a game in the evening you spend a long day preparing for it.
"We're unhappy about it but what can we do? These are acts of God - no one can decide whether it's going to rain or not - we just have to live with the situation.
"We're disappointed, we prepared well for tonight, as no doubt the Poles have too, but now we've got to do it all over again and hopefully we'll be as prepared tomorrow as we were tonight."
On three occasions referee Rocchi rolled the ball across the sodden surface but to no avail, and both players will return on Wednesday afternoon in an attempt to replay the game.
Stadium officials had confirmed that the pitch would require just 30 minutes to dry, with the roof closed, but with the windy conditions overhead, and 24 hours notice required to close the roof, nothing could be done to remedy the situation.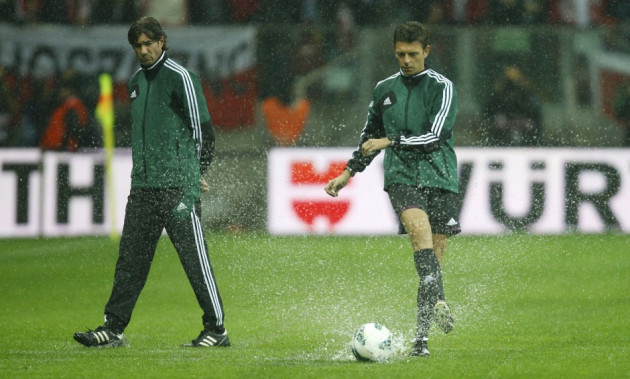 After the confirmation of the postponement of the matches, both sides attempted to negotiate over an alternative date, with the hosts concerned over the condition of a number of their players who have domestic commitments on Friday evening.
However, Fifa regulations state that should weather conditions contribute to a game being abandoned the match must be replayed 24 hours afterwards, leaving the world governing body forced to arrange the game on Wednesday despite complaints from the home side.
While supporters from the home side are likely to return in their droves for the rearranged game, England fans will be forced to return home with the alternative kick-off time playing havoc with arrangements.