Police in Warsaw used a water cannon and fired rubber bullets into the air to push back several hundred masked far right wing protesters who broke away from a march and threw stones and flares at lines of riot police.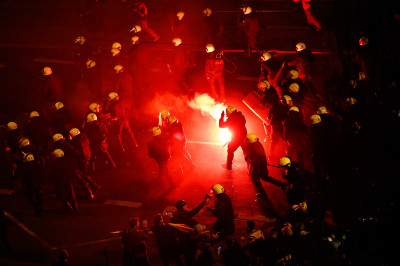 The violence, which occurred amid celebrations of Poland's Independence Day, has become a ritual – as for a fourth year in a row the march turned violent.
When the march crossed a bridge over the Vistula river to the eastern bank near the national stadium, a group of people broke away.
They tore up paving slabs and benches from a nearby bus station and hurled them at police, along with stones, fireworks and flares.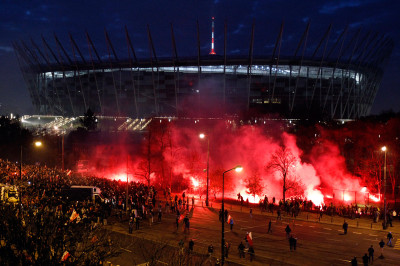 The police responded by firing rubber bullet rounds into the air, and used jets of water, stained red by a colouring agent, from four water cannon trucks.
Three men tried to move forward using a large blue road sign they had torn down as a shield but were also driven back.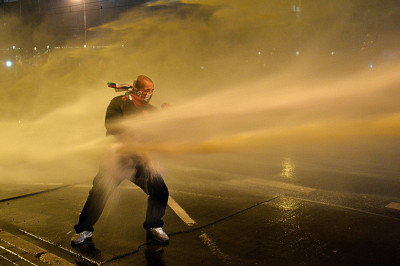 A police spokesman said more than 200 people were arrested, many of them before the march started for carrying items that could be used as weapons. Twenty-three police officers were injured in the clashes.
Earlier, President Bronislaw Komorowski led official celebrations and a march for the holiday, which celebrates Poland regaining its independence after World War I.
For 123 years before that, Poland was effectively wiped off the map, partitioned by Austria, Russia and the German kingdom of Prussia.
At the start of the march, participants chanted "Down with the European Union!" One small group in the crowd, from the city of Chelm, began making Nazi-style salutes, but organisers intervened to stop them.