A Venezuelan policeman was shot dead on Wednesday night and around 120 people were injured as violence escalated when thousands of opposition demonstrators took to the streets against President Nicolas Maduro.
The government blamed activists from the opposition who clashed with security officials on a highway out of Caracas. Police forces from Miranda state confirmed the death of the officer but did not connect it to the demonstrators. Opposition leader Henrique Capriles is the governor of the state.
The opposition leaders pledged to march to the presidential palace next week, if the halted referendum proceedings don't resume.
Angered by last week's suspension of a plebiscite to oust Maduro, the opposition has stepped up its strategy in recent days.
On Tuesday, they launched a political trial against Maduro in the National Assembly and held demonstrations termed "Takeover of Venezuela" on Wednesday. The protesters came together at around 50 sites across the country, Reuters reported.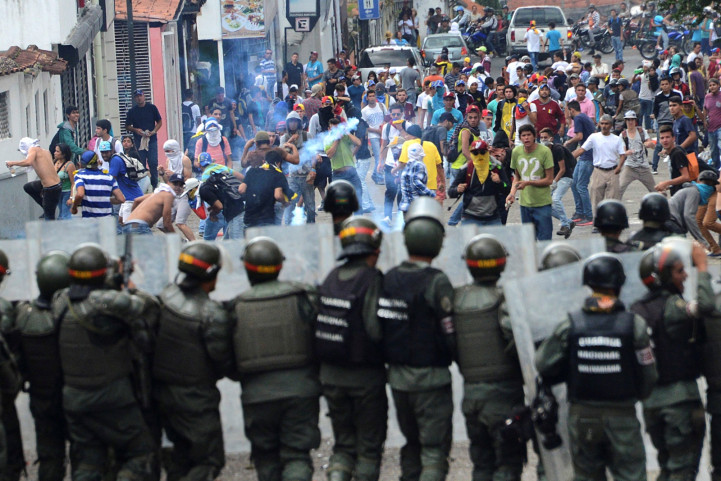 "Why aren't we going today? Because we also have to give a chance and rights to all of our Venezuelan brothers," Capriles said. "This needs to keep growing so that the government understands once and for all that we're doing this for real." He claimed that around 120 people were wounded and 147 people detained.
Student leaders and other opposition members said that demonstrators were hit by bullets in Merida, San Cristobal and Maracaibo, Venezuela's largest city. According to a rights group Penal Forum, over 208 people were arrested and 119 were still detained. The government did not give any figures on detentions and injuries.
Hasler Iglesias, a student protest leader in Caracas, said: "If they don't want to let us choose in an electoral voting process, they are going to have to listen to us as we march in the streets peacefully, overwhelmingly, and tirelessly until they meet the demands of the Venezuelan people."
Maduro, the 53-year-old socialist leader, blamed the opposition of plotting a coup with the US help and ruled out a recall referendum. He told a group of pro-government demonstrators at a rival rally, "They are desperate, they have received the order from the north to destroy the Venezuelan revolution."
The oil rich country is facing high inflation and food shortages and the opposition blames Maduro for the economic situation of the country.