Venezuela's opposition declares 'coup' by President Maduro, votes to put him on trial
This comes after the electoral council suspended a signature drive for referendum to remove Maduro.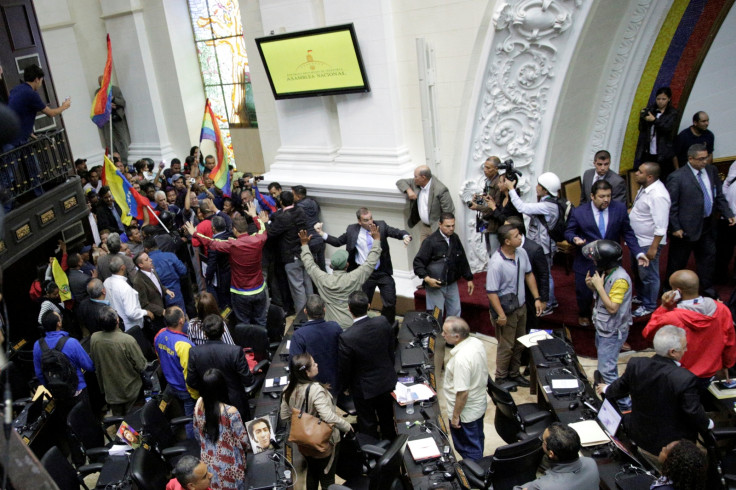 Venezuela's right-wing opposition-led National Assembly on Sunday (23 October) put President Nicolas Maduro under more pressure by voting to put him on trial for violating democracy.
The opposition coalition said in a special session that Maduro's government had carried out a coup d'etat by blocking a referendum on removing him from power and they will move on to prosecute him for allegedly breaking "constitutional law".
"It is a political and legal trial against President Nicolas Maduro to see what responsibility he has in the constitutional rupture that has broken democracy, human rights, and the future of the country," opposition majority leader, Julio Borges, said in a special congressional meeting.
However, the session was interrupted when at least 100 pro-government supporters stormed into the chamber and flaunted Socialist Party signs while shouting "The Assembly will fall!" before officials threw them out.
According to reports, during the protest by the ruling party demonstrators, some congressmen got injured and some journalists had also been robbed of their camera and flak jackets.
"The Socialist Party is showing what it has left. There are no ideas or arguments, only violence!" opposition leader and two-time presidential candidate, Henrique Capriles, said, commenting on the attack.
The development comes just days after the electoral council suspended a signature drive for referendum to remove President Maduro. The electoral body said it was acting in accordance with the courts and alleged that there was fraud in the first round of the signature drive in June, where the opposition collected signatures from 1% of the electorate.
The opposition said that the 20 October suspension of its drive for a plebiscite against Maduro shows Venezuela has discarded democracy and has called for a major peaceful protest on Wednesday, named "The takeover of Venezuela".
They also voted for nine other resolutions, including an appeal to the international community for concrete support against Maduro's government and taking the National Electoral Council and judges who had suspended the referendum to the International Court of Justice in The Hague.
Meanwhile, President Maduro in a video message from Saudi Arabia, where he is discussing global oil prices, alleged that the opposition coalition "is trying to take over power by unconstitutional means".
© Copyright IBTimes 2023. All rights reserved.