Filipino Senator Leila de Lima said Malacañang, the presidential palace and the seat of power for over 150 years in the Philippines, could be behind the bloody New Bilibid Prison riot, which took place on Wednesday morning (28 September).
High-profile convict Tony Co was killed in the incident while Jaybee Sebastian, Peter Co and Vicente Sy suffered injuries at the maximum security compound. The wounded were taken to Medical Center Muntinlupa for medical attention. They are part of a group known as the "Bilibid 19" – drug lords who lived an extravagant life behind bars while profiting from the narcotics trade.
The House Committee on Justice is carrying out an investigation into the alleged proliferation of banned substances in the prison while de Lima was still justice secretary. According to de Lima, the prisoners – who were in Building 14, where high-profile convicts are housed – were targeted as they refused to testify against her in the Bilibid drugs probe.
De Lima slammed efforts to portray her as the "Bilibid Drug Queen" and said threatening prisoners who refused to testify against her amounts to "Mafia tactics and gangster-style operations that make this government worse than a narco-state."
Raising questions over whether the incident was actually a brawl during a press conference, de Lima added: "The official version of the DOJ (Department of Justice) is that this was a riot...I am not discounting the fact that this is another way of the government 'persuading' the Bilibid 19 to testify against me and this incident should serve as a lesson to those who refuse to cooperate with the government and do [Justice Secretary Vitaliano] Aguirre's and Malacañang's bidding.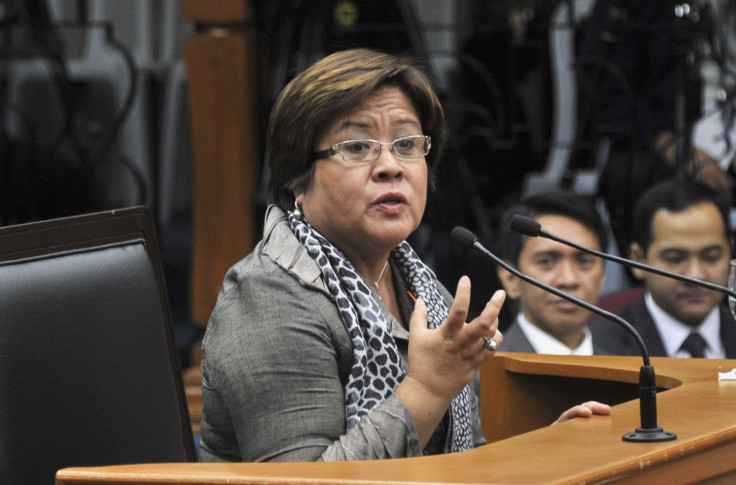 The former justice secretary also accused the Philippine National Police-Special Action Force (PNP-SAF) of torturing and intimidating inmates to coerce them into testifying against her. De Lima added: "It makes this government an assassin state, a state that promotes murder and summary executions as policy and as a weapon against perceived enemies" and issued an appeal to Malacañang "to stop these tragic, desperate and despicable actions."
Aguirre refuted claims of prisoner harassment, saying it is in the interests to keep Sebastian alive. "If Jaybee dies, who will benefit?" Aguirre said. "Isn't it De Lima?"
De Lima and Philippine President Rodrigo Duterte have been embroiled in a public and bitter spat, with the former becoming increasingly isolated after seeking to hold the latter to account over the deadly war on drugs in which thousands have died.
During the long-running war of words between the pair, Duterte has labelled de Lima an "immoral woman" and alleged that she is involved in the New Bilibid Prison drug trade. Meanwhile, de Lima has accused the president of having a "foul mouth" and called him the "lowest and vilest man in the country."