Pop superstar Richard Marx has accused the cabin crew onboard a Korean Air flight of being "ill-trained" after he stepped in to help restrain a violent passenger during a flight. The Ready To Fly hitmaker's wife Daisy Fuentes, who was also on the flight from the Vietnamese capital Hanoi to Seoul, documented the air rage incident on social media.
Marx, who topped the charts in the 80s with hits including Right Here Waiting, described the incident "chaotic and dangerous" and staff as "ill-equipped" in a string of posts on Twitter.
He told his 98.8k followers:" You will be hearing about our flight#480 on @KoreanAir_KE . Passenger next to us attacked passengers and crew. Crew completely ill-trained.
"We have video of entire chaotic and dangerous event on @KoreanAir_KE 480. Lasted 4 hours. Crew completely ill-equipped to handle the situation."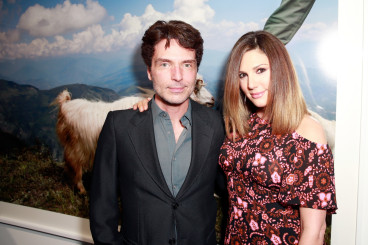 In images posted to Fuentes's Instagram page, the unidentified man can be seen grabbing a flight attendant's hair while another attendant pointed a Taser at him. Another snap showed Marx with a rope in hand preparing to subdue the unruly passenger, According to Yonhap news agency, the man was intoxicated and was taken into custody by the South Korean police upon landing.
Marx later updated concerned fans, tweeting: "Daisy and I are home safe and sound. No big "hero" move at all. Just did what I would hope anyone would do in same situation. Tnx 4 concern."
However, South Korea's biggest airline has defended its staff saying they had to follow protocol in incidents of air rage. A Korean Air Spokesperson told the Korea Herald that the Taser had not been used because of the risk it posed to nearby passengers. "The flight crew responded to the situation according to the proper protocol," he said.