Popcorn Time: A Movie Streaming Service Like Netflix, Only With Illegal Movie Torrents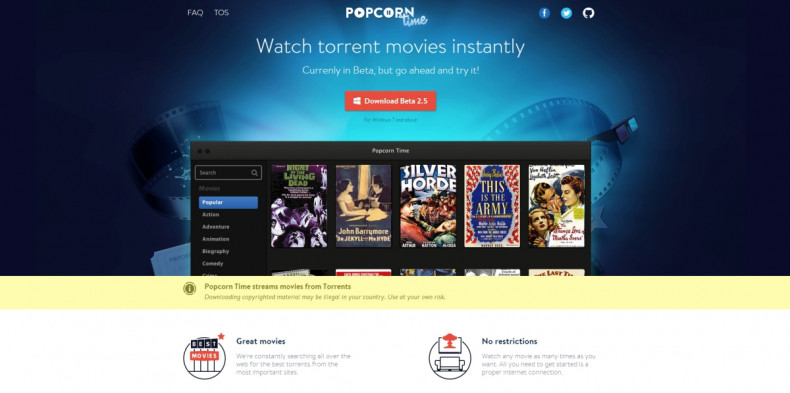 Always wanted to illegally download movies using BitTorrent but found it too difficult to figure out? Now you don't have to, as a programmer has made a new open source free movie streaming app called Popcorn Time that streams movies directly from peer-to-peer networks.
Users of BitTorrent clients share and distribute large files over the internet, which are distributed in segments called pieces to users, who are known as "peers". Once a user receives every single piece of the file, they can continue to share their copy with other users as "seeders".
"As a designer I love the challenge of simplification. Take something hard for the common user and make it usable. I have a lot of friends who don't understand torrents and I wanted to make it easy and effortless to use torrent technology," the app creator from Buenos Aires, Argentina, known on the internet as Sebastian, told Torrent Freak.
Sebastian took only a few months to code the app and Popcorn Time offers instant access to hundreds of films, complete with subtitles and able to be streamed in a range of qualities, from 720p to full HD.
Of course, all of this is illegal as Popcorn Time links to copyrighted movies, many of which haven't yet been released on iTunes or Amazon for legitimate digital movie downloads, but Sebastian and his team of 20 collaborating developers working on the Popcorn Time project on GitHub don't seem to be too concerned.
"We don't expect legal issues. We don't host anything, and none of the developers makes any money. There are no ads, no premium accounts, and no subscription fees or anything like that. It's an experiment to learn and share," he said.
"The technology behind the app is very simple. We consume a group of APIs, one for the torrents, another for the movie info, and another for the poster. We also have an API for the subtitles. Everything is automated, we don't host anything, but take existing information and put it together."
The movie industry might not see it that way, as everything Netflix has done to reduce movie piracy, Popcorn Time could very easily undo, even though the website carries a disclaimer stating that "downloading copyrighted material may be illegal in your country".
Add to that, BitTorrent Portal websites like The Pirate Bay and Kick Ass Torrents continue to make an average of $4.4 million (£2.6m) in advertising revenue every year, according to a recent report by the Digital Citizens Alliance.
"We hate that we don't have the chance to watch some movies at home. Popcorn Time is an experiment to show that you can do something better for the users, and that you can do it with BitTorrent," says Sebastian.
Popcorn Time is officially still in beta testing mode, but the developers have promised that the platform will continue to remain free and open source for as long as it exists.