Due to overwhelming demand from Apple users, the developers behind time4popcorn.eu, the European fork of popular movie torrent streaming service Popcorn Time have announced the service is now available for iOS devices as long as they have been jailbroken.
Users can download the controversial software for free from Cydia, the jailbroken app store alternative to the iTunes App Store, but they must first have jailbroken their iPhone, iPad or iPod Touch using a jailbreaking tool such as Pangu or evasi0n.
According to the developers, demand for Popcorn Time on Apple devices was so great, 8,000 iOS users a day were trying to download the Android version of the app on to their devices and make it work since the European option began, since there was no iOS version.
The developers said that for now, Popcorn Time for iOS does not have support for Chromecast and Airplay (features available on the Android and desktop Mac and PC versions) but will come in the next release of the software.
Next step: Improving user anonymity
"After only five-and-a-half months, Popcorn Time is available on all major platforms! This is only the beginning, trust us. Our future plans are huge," time4popcorn.eu's developers told IBTimes UK.
"We're on the road to becoming not only the ultimate watching experience but also the safest with the free built-in VPN we've worked so hard on to ensure our user's safety."
The next step, the developers said, was to find a way to make sure Popcorn Time users were protected from being detected using the software by their internet service providers (ISPs).
"All of our traffic is encrypted because there are ISPs that are blocking or slowing down BitTorrent traffic for various reasons, for example, protecting their bandwidth. Encrypting the traffic helps us bypass these barricades and ensures a better watching experience for our users," the developers said.
"Our next big mission, which along the way has become one of our biggest missions, is to protect our user's anonymity. The initiatives we're working on will be revealed in approximately two to three months from now and they're going to be revolutionary and exciting as hell."
How Popcorn Time started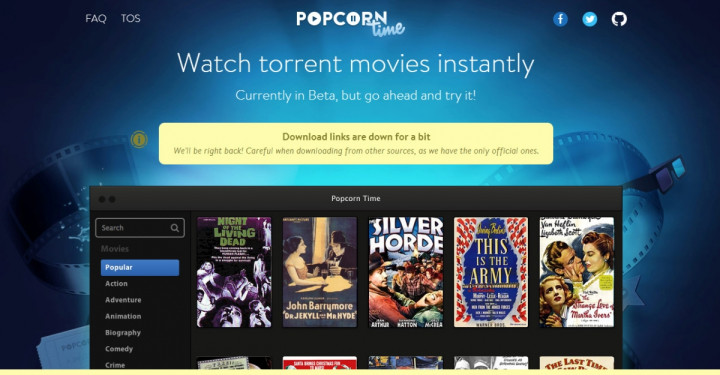 Popcorn Time was built by 20 developers on GitHub to be a version of Netflix that used pirated films for its content and was able to run on Windows, OS X and Linux.
The software's installer was initially hosted by Kim Dotcom's Mega file-sharing service but was only available to download for a few days in March before it was taken down. It is believed Dotcom took the file offline after receiving copyright infringement takedown notices from the movie industry.
Popcorn Time's creators left the project soon afterwards, but programmers from a popular movie torrent website decided they would revive the project. In addition to them, other teams also began adapting the original code, which had been placed on the open-source code repository website GitHub, into new versions ('forks').
"The original founders of Popcorn Time have dispersed completely. Any attempt on our end to contact them didn't succeed and no one from the community knows where or who they are," the developers said.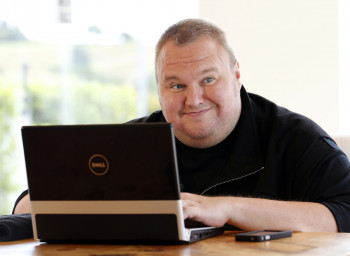 "We hope they are proud and supportive of the work we've done thus far and how we advanced on what they left off."
Despite attempts to have it taken offline for good, the service has been successfully resurrected by numerous anonymous developers and is now installed on four million devices worldwide.
The app features an intuitive user interface and was translated into 32 languages, so users could avoid downloading pirated content using BitTorrent and instead stream it in a range of qualities.
The developers said they are currently using two servers to host Popcorn Time and one of them is only for back-up.
And while there are risks to running a service that angers the Hollywood movie industry, time4popcorn.eu's team feels there is great meaning in continuing its work.
"Pirated content as it is, is not important, but it's here on the internet and it's been here for a long time, way before Popcorn Time [started]," they said.
"It's part of the internet and no one can block, regulate or suppress the internet. This is important."