Pope Francis Did Not Perform Exorcism on Disabled Boy, Says Vatican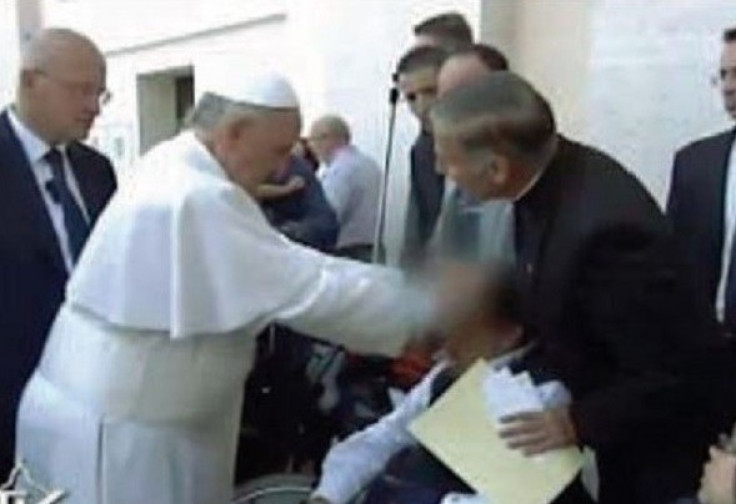 The Vatican has denied claims by an Italian television channel that Pope Francis performed an exorcism on a disabled boy.
The religious channel, TV 2000, which is owned by Italy's bishops' conference, had broadcast footage showing the pontiff apparently performing the ritual on a boy in a wheelchair.
The footage showed the pontiff placing his hands on the boy's head and saying a prayer. The boy was later seen trembling for a few seconds.
The TV 2000 report also quoted exorcists as saying: "No doubt the pope was either reciting a prayer for freeing from the devil, or performing an exorcism."
An exorcism expert told the La Repubblica newspaper: "It was a prayer of liberation from evil or even a real exorcism."
However the Vatican has now issued an official denial. Spokesperson Federico Lombardi said in a statement: "The Holy Father did not intend to perform any exorcism.
"As he often does with sick and suffering people who are presented to him, he simply intended to pray for the suffering person."
The predecessors of Francis are also suspected of performing acts of exorcism, but the Vatican has consistently downplayed the incidents.
The Catholic Church's leading exorcist priest, Gabriele Amorth, spoke about exorcism soon after Francis's predecessor, Pope Benedict, retired.
"Pope Benedict has done many things for exorcists. He has allowed them within the catechism of the Catholic Church, consenting them to administer the sacrament of exorcism to people suffering from demonic possession" Amorth.
© Copyright IBTimes 2023. All rights reserved.