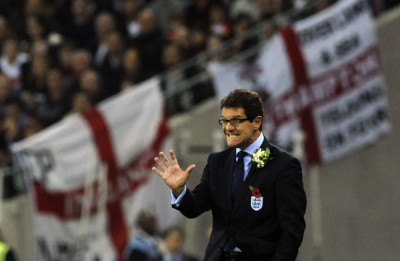 Whilst no one will be championing England as the favourites for next summer's European Championships, Fabio Capello must have drawn great comfort from seeing some of his meticulous planning come to fruition at Wembley on Saturday evening. Tottenham Hotspur's Scott Parker, Manchester City's Joleon Lescott, and Chelsea's Frank Lampard all deserve a mention for their efforts that helped the Three Lions topple the world and European champions. On occasions overlooked or maligned, the aforementioned trio displayed quality and resolve in abundance. But it was the next generation that had the Italian purring after their keenly fought 1-0 win, as Everton's Jack Rodwell, Manchester United duo Danny Welbeck and Phil Jones, and Tottenham's effervescent fullback Kyle Walker, all offered a fleeting glimpse into an exciting future for the national side. Even without the creative spark of Arsenal's Jack Wilshere, Liverpool's Steven Gerrard and a certain Wayne Rooney, Fabio Capello must have learnt a great deal from his side's efforts...
Scott Parker: First name on the team sheet
The Tottenham Hotspur talisman and current Football Writers' Player of the Year, is one of those rare Premier League footballers that is appreciated by all fans regardless of their club. The former Chelsea, Charlton and West Ham United midfielder no less, has made a mockery of Capello's decision to omit him from his World Cup squad in 2010, and is now one of his country's most important players. His performance in regularly defying the mastery of Xavi, Andres Iniesta and the catalyst of Manchester City's super start to the season, David Silva, was a thing to behold as the industrious 31-year-old repelled their mercurial craft and invention with a string of robust challenges and timely interventions. Such is his stock in English football at the moment, Arsenal boss Arsene Wenger, Manchester United's Sir Alex Ferguson and Liverpool supremo Kenny Dalglish must be rueing the day they declined to match or better the £5.5 million fee Harry Redknapp paid West Ham in the summer.
Joleon Lescott: Growing in stature for club and country
Joleon Lescott's form for Manchester City, most notably against Manchester United in last month's stunning derby, suggests the 29-year-old is finally living up to the lofty fee Mark Hughes paid Everton in 2009. Alongside his equally impressive former Goodison Park colleague Phil Jagielka, Lescott was a towering presence in front of the ever reliable Joe Hart, as the trio stood tall in the face of the Spain's gifted side. That Spain failed to convert 71% possession into anything more tangible, is a testament to Fabio Capello's organised back-four, and the Manchester City defender was the focal point for an extremely well earned clean-sheet.
Frank Lampard: Best Before End...Not yet
The Chelsea talisman has been perpetually written off in his career and yet the criticism merely fuels the midfielder's insatiable appetite to prove his detractors wrong. Whilst the age old debate of how to accommodate the Lampard-Steven Gerrard axis will rage on when the Liverpool man returns from injury, Lampard displayed the kind of opportunism that has defined his career. His goal aside, the 33-year-old captained the team in John Terry's absence with an admirable amount of humility and class. The manner in which he won his 90th cap suggests there will be a few more to follow and rightly so.
Jack Rodwell: Unfazed by Spain's heralded midfield on debut
Unfairly talked up as the hottest prospect in English football, the young Everton midfielder has by his own admission endured a disappointing 18-month spell. Until now that is. His form for Everton this season has illustrated his undoubted pedigree and whilst there remains room for improvement, Rodwell's brief cameo against Spain suggests he is unfazed by senior international football. The midfielder yearned for the ball when he came on, displaying a courage and fearlessness that belied his relative inexperience. Fabio Capello will be eager to monitor the young midfielder but the initial signs are encouraging.
The Rest of England's next generation
In the aftermath of a victory very few had predicted, Fabio Capello singled out England's young players for special praise.
"For me, the most important thing you saw this evening is the performance of Rodwell when he played, the performance of Jones, the performance of Welbeck. These are really good young players. Also Walker when he played. These players will be very important for the next Euros because you saw they played without fear and with personality on the pitch. Physically and technically I can see they are good to play with the seniors."
In addition to Rodwell, Danny Welbeck made an intriguing case for inclusion at next summer's European Championships given his Manchester United teammate's self-inflicted absence. Whilst Darren Bent cut an increasingly isolated and forlorn figure up front on his own, Welbeck displayed a greater willingness to run the channels, and a mobility that troubled his former Old Trafford teammate Gerard Pique.
Phil Jones stood up to the challenge of playing out of position by furthering his burgeoning reputation, even though his England future is at centre-half and prominently so.
Tottenham Hotspur's Kyle Walker entered the fray with a carefree gusto that belies England's previously perceived psychological frailties. Its early days but England may have finally found an heir to the yet to be replaced Gary Neville.