Barclays PPI Compensation Pot Rises to £2bn [VIDEO]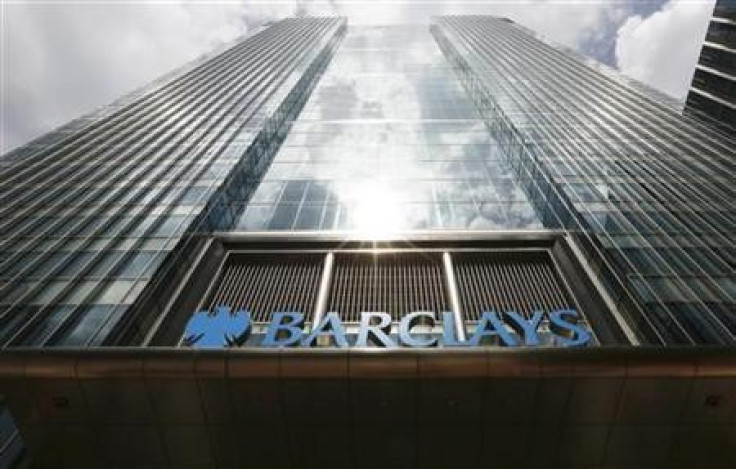 Barclays is adding another £700m to the payment protection insurance (PPI) compensation amount it has set aside for claims after the UK bank said it had higher than previously anticipated levels of claim volumes.
The additional amount will bring its compensation total to £2bn, after setting aside £1bn in 2011 and £300m it added in the first quarter of this year.
It said in a statement that it will "continue to monitor actual claims volumes and assumptions underlying the calculation of its PPI provision."
However, Barclays reiterated that its "third quarter adjusted profits, which exclude PPI provision, is expected to be broadly in line with market consensus of £1.7bn"
PPI is sold as a cover insurance on loan or debt repayments in the event of certain problems, for example, if you are unable to work because of illness, or if you are made redundant.
However, after various investigations, it was found that these products were mis-sold to customers who would not be able to claim back any money on the insurance from the outset. It was also found by the Financial Services Authority (FSA) that there were serious failings in the way these were sold and some customers had not realised they were sold the extra insurance on top of their loan.
Compensation amounts are now estimated to reach £10bn in total.
Barclays shares fell around 1.7 percent in London trading to change hands at 240.2 pence each against a modest 0.03 percent gain for the benchmark FTSE 100.
According to data released by the FSA, complaints to financial services companies soared by 59 percent in the first half of 2012. In the first six months of the year 3,577,599 customer complaints were lodged against finance firms, with 85.8 percent being resolved within eight weeks.
Of these complaints, 2,232,294 related to PPI.
The second highest cause of complaints was credit card services at 330,098, followed by current accounts at 323,955.
From the same report, the most complained bank is Lloyds TSB with 391,272 complaints being lodged in the first six months of 2012. Paying out on PPI compensation had pushed Lloyds to a half year loss, forcing the bank to allocate an extra £700m to redress claims made against it.
Next under Lloyds was Bank of Scotland, followed by Barclays in third place.
Learning from the Past
On 16 October, Britain's new market watchdog set out its plans to overhaul the financial services industry, which includes using PPI case studies as a benchmark from learning from the past.
The Financial Conduct Authority (FCA) released a 32-page "Journey to the FCA" report which chairman designate John Griffith-Jones declared the start of "putting flesh on the bones of strategic and operational objectives" for the newly-formed regulator.
The FCA's CEO Martin Wheatley said that the regulator is considering how previous conduct issues can help it evaluate its overall success.
"This evaluation will help us decide when we need to provide a formal report to the Treasury," he said in the report. "It is widely agreed that a problem the size of PPI should not be allowed to recur. Consequently, the FSA Board decided that it would have zero tolerance of absolute loss to retail consumers in excess of £250m and that smaller but still significant total losses should not occur more frequently than once every five years."
The FCA said that the following diagram sets out how the PPI issue developed over a number of years, in terms of the number of customers affected (incidence) and the amount of harm suffered (severity).
"We will aim to prevent any issue ending up in the red zone, which represents many customers and high amounts of harm. We will also want issues in the yellow or orange zones to be exceptional (so no more than once every two years in the yellow zone and no more than once every five years in the orange zone)," said the report.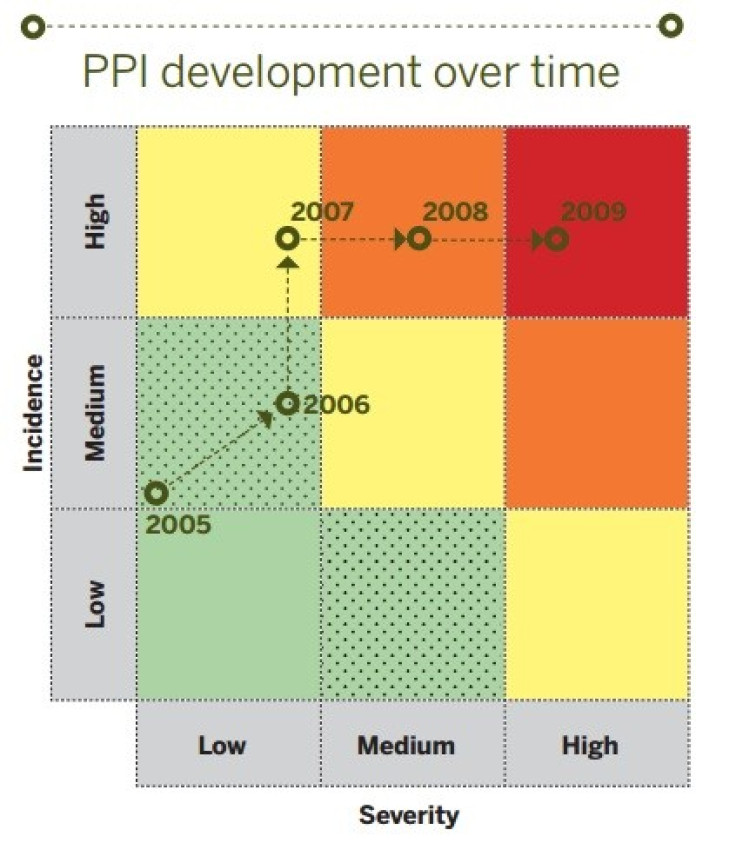 © Copyright IBTimes 2023. All rights reserved.