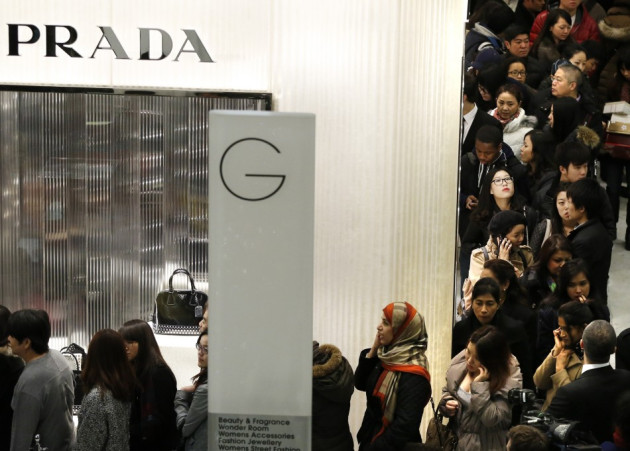 Italian luxury goods maker Prada's shares closed 3.34% lower in Hong Kong, it's lowest in three weeks. The stock was pulled down by weak first quarter results, which showed the group's net profit growth had hit a 12-month low.
On its part, Prada said it would cut costs even as it continues to add more stores overseas, expanding its footprint beyond the big Chinese metros for instance.
On 11 June, Milan-based Prada reported a 13.5% rise in net income to €138.2m (£117.7m, $184.8m), lower than the €143m average estimated by analysts polled by Bloomberg. The earnings statement was put out after the market closure in Hong Kong, where it is listed. Markets were shut on 12 June for the Dragon Boat festival.
Prada's stock closed at HK$70.80. Hong Kong's benchmark Hang Seng closed 2.18% lower at the end of day's trade on 13 June.
Prada's stock has lost 4.32% in the year so far while the Hang Seng is down 7.8%.
Barclays lowered its share-price estimate on Prada to HK$75 from HK$80 on 12 June. Risks to the company include a failure to execute its expansion strategy and a weaker global economy, the Barclays report said. "We see limited upside for the share price," Barclays analysts led by Candy Huang said in the report.
"In an international economic environment that remains extremely volatile and uncertain, the Prada Group has recorded another highly positive quarter, continuing along is path of development founded on solid and lasting growth.
In 2013, we will again concentrate on the international expansion of our retail network but without moving away from tight control over costs and working capital, also in order to safeguard our cash flow generation," chief executive Patrizio Bertelli was quoted as saying in a company statement.
Prada's retail expansion strategy will target potential customers in smaller metros as well. In China, Prada has moved beyond Beijing and Shanghai, opening one store each in Nanjing and Changchun earlier this year.
The Asia-Pacific is the fastest-growing market for the maker of $3,500 leather bags or totes. Revenue grew 24.8% owing to a strong contribution from directly operated stores in mainland China, Hong Kong and Macau.
The Japanese market recovered with a revenue growth of 12.2% at constant exchange rates, though a weaker yen resulted in a 1.8% drop in euro revenues, the statement said.
Sales revenue from the Americas grew 23% at constant exchange rates, the company said. However, the European market remained broadly unchanged, with sales rising 1.3% at constant exchange rates.
Prada's products are sold in 70 countries through 462 directly operated stores, as well as at luxury department stores, independent retailers and franchise stores, the company said.