Full time: Liverpool 1-0 Stoke City
Full time: Arsenal 1-3 Aston Villa
Full time: Norwich City 2-2 Everton
Full time: Sunderland 0-1 Fulham
Full time: West Bromwich Albion 0-1 Southampton
Full time: West Ham United 2-0 Cardiff City
Full time: Swansea City 1-4 Manchester United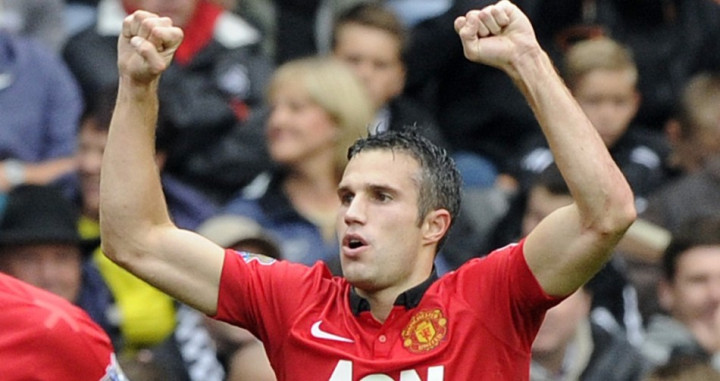 19:27: It has been a typically exhilarating opening day in the Premier League, same again tomorrow? Crystal Palace v Tottenham Hotspur and Chelsea v Hull City is the offering and until then goodbye.
19:24: The champions open their account in emphatic style as they romp ton a victory over Swansea. Robin van Persie and Danny Welbeck both scored twice and despite Wilfried Bony's goal, the points will go to Old Trafford. Wayne Rooney was given 30 minutes also but looked off-colour throughout and didn't celebrate any of the United goals before leaving the pitch with an injury. Questions still to be answered you feel.
Full time: Swansea City 1-4 Manchester United
19:22: The icing on the cake comes from Danny Welbeck. Rooney's first real involvement sees him find Welbeck in the right hand channel of the area, and the England strike delightfully dinks the ball over Vorm. Already more goals in this game than in the whole of last term for Welbeck.
Goal: Swansea City 1-4 Manchester United (Danny Welbeck 90+3)

19:20: Plenty of signs of late United nerves as Vidic clears the ball out of play for a throw under very little pressure. Swansea's race is run however.
19:17: Four minutes of added on time. United running down the clock whenever possible now.
19:14: Change for United as Anderson comes on for Van Persie who leaves as the match-winner elect.
19:13: A consolation it may only be but a hugely beneficial one it could turn out to be. Danny Welbeck loses the ball on the edge of his own penalty area and Hernandez feeds Wilfried Bony who coolly slots it into the corner beyond De Gea for his first Premier League goal.
Goal: Swansea City 1-3 Manchester United (Wilfried Bony 82)

19:05: Change for Swanea. Ki Sung-Yueng on for Canas.
19:02: Outstanding finish from the man who played a significant role in guiding Manchester United to the title last season; Robin van Persie. He picks the ball up mid-way inside the Swansea half and is allow to run until he smashes the ball into the roof of the net from 20 yards. Vorm helpless and Swansea are beaten.
Goal: Swansea City 0-3 Manchester United (Robin van Persie 73)

19:00: Laudrup's side are getting closer. Hernandez's cross goes long towards Rangel', whose volley flashes across goal but evades Shelvy and Bony.
18:47: Rooney's first real involvement sees him win United a corner. Van Persie swings the ball in and Patrice Evra's header is cleared off the line by Canas.
18:55: United are keeping Swansea at arms length even if possession is still being dominated by the home side. Rangel hits a volley from 30 yards but the ball balloons wide.
18:54: Swansea committing plenty to attacks and United brreak with three against two. Welbeck feeds Rooney but he is offside. A let off for the Swans.
18:50: Rooney replaces Ryan Giggs. Who knows what this means over his future, but something tells me you don't involve players in matches who you are then going to sell. Just a thought.
18:48: Meanwhile, Van Persie should nail the three points after Welbeck's flick on but he shoots wide. Still hope for Swansea, who through Bony, go close at the other end.
18:47: Wayne Rooney warming up for Manchester United. A good reception for the wantaway England forward. Looks like we're going to see the 27 year old.
18:42: It's all Swansea again. Rangel's cross finds Bony whose cushioned header is into the path of Michu but De Gea gets there to push the ball behind. The Spaniard is down with an injury after a collision but is able to continue.
18:38: Bony into the action straight away but he lets the ball get away from him. Michu takes a shot in anger but De Gea saves well.
18:34: Back to the Liberty Stadium. Two changes, Wayne Routledge and Leon Britton off and Pablo Hernandez and record signing Wilfried Bony on. Underway in the second half.
18:32: No doubt where the story of day has come from, and that is at Arsenal who were beaten 3-1 by Aston Villa today.
Manager Arsene Wenger told BBC Sport: "What hurts me is to disappoint people who love the club. All the rest I have to live with, but I'm here to make people happy and when I do not I can only say sorry and come back and make them happy in the next game. We could have won the game today with the players we had on the pitch, I'm convinced of that."
18:28: It would be an understatement to suggest David Moyes will be delighted with United's 2-0 half-time lead but what of hiss opposite number Michael Laudrup? The Dane will surely be reminding his side how they controlled the game for 30 minutes and posed a real threat. He may have only returned from Mexico on Friday but Wilfried Bony, who scored 35 goals for Vitesse Arnhem last season, will surely be introduced after the break.
18:19: No doubt that Swansea began the better but in a flash United have taken a strong grip of this game. Robin van Persie smashed in a superb opener before Welbeck tucked away a second. It's easy this managerial lark isn't it Mr Moyes?
Half time: Swansea City 0-2 Manchester United
18:16: A third United booking after Antonio Valencia and Michael Carrick, Tom Cleverley joins them. The resulting free-kick, wide on the right, comes to nothing.
18:13: The pressure is relentless from Moyes' men. Giggs is slipping into a more central role and is dropping off and causing all kinds of problems. Swansea struggling to live with them at times.
18:11: That is typical United, who have soaked up much pressure in the first half an hour before going out of sight before the break. Michael Laudrup looks lost as how to explain what has just occurred. He'll need to find some solutions in order to prevent United's lead becoming greater.
18:08: Two in as manay minutes for thecChampions who after a slow start have burst into life. Evra's cross towards Van Persie falls the way of Antonio Valencia and his pull back finds Danny Welbeck who taps into an empty net.
Goal: Swansea City 0-2 Manchester United (Danny Welbeck 36)

18:06: Absolutely brilliant finish from Robin van Persie. Giggs' ball over the top is deflected but the Dutchman takes the ball down and with it bouncing around the Swansea area he unleashes an acrobatic volley beyond Vorm. Terrific goal.
Goal: Swansea City 0-1 Manchester United (Robin van Persie 34)
18:03: Swansea win a free-kick after Evra takes down Dyer. Flores can't get his head to the set-piece though. The hosts are controling the game at the moment.
17:54: Michu is in amongst it again, holding off Rio Ferdinand and Patrice Evra before forcing De Gea into turning the ball behind. From the resulting corner, the Spaniard heads wide. Very open game.
17:52: Swansea's turn to attack and they almost open the scoring. Routledge's toe-poked effort is turned away by David de Gea but Nathan Dyer is offside from the follow-up effort. Michu puts the ball in the next in the end but celebrations are halted.
17:50: David Moyes should be celebrating his first goal as United manager. A lovely move sees Valencia move it on to Welbeck who shoots, the effort is parried by Vorm only as far as Giggs who smashes the ball wide.
17:46: Second opening for the defending champions. Patrice Evra's crossed finds Van Persie's head, but his effort is straight at Vorm. Giggs is now put through by the Dutchman, but he opts to pass to Danny Welbeck instead of shooting and Swansea intervene.
17:43: Tackles flying in early on as Antonio Valencia is booked. Now Chico Flores goes in on Danny Welbeck, leaving the England forward on the floor. No foul, and Welbeck gets to his feet. Intense start.
17:38: United almost hit the front. Ryan Giggs' free-kick goes to the back post and Jones unleashes a volley which produces a flying save from Michel Vorm.
17:38: Swansea have started very quickly and United almost gift them the lead as Phil Jones' backpass is short and David de Gea benefits from his kick rebounding off the onrushing Michu.
17:35: Gressy surface and Canas goes in on Tom Cleverley but his foot is adjudged to be too high and Phil Dowd brandishes the first yellow card of the afternoon.
17:30: Underway at the Liberty Stadium.
17:28: Teams are out at the Liberty Stadium. Absolutely pelting it down in south Wales.
Michael Laudrup on Sky Sports: "He (Bony) came back very late after playing a friendly game. Even if you want to play you can't play the whole game; 90 minutes is not possible. We have to be aggressive and play our game respect the side but we're not afraid. We need to do what we did last season."
17:19: Michu will lead the Swansea attack with Wilfried Bony, who is on the bench, having to wait for his Premier League debut. Jose Canas and Jonjo Shelvy make their league debuts for the Swans.
Michael Carrick returns despite withdrawing from the England squad with an eye problem. Rafael's hamstring injury sees Phil Jones play at right-back. Danny Welbeck partners Robin van Persie in attack.
17:10: Teams:
Swansea City: Vorm, Rangel, Chico, Williams, Ben Davies, Canas, Britton, Dyer, Shelvey, Routledge, Michu. Subs: Amat, Taylor, Bony, Hernandez, Ki, Pozuelo, Tremmel.
Manchester United: De Gea, Jones, Ferdinand, Vidic, Evra, Cleverley, Carrick, Valencia, Giggs, Welbeck, van Persie. Subs: Anderson, Rooney, Smalling, Lindegaard, Fabio Da Silva, Kagawa, Zaha.
Referee: Phil Dowd
17:09: Let's turn our attention to the final game of the day as David Moyes' leads Manchester United for the first time in the Premier League at a Swansea City side who claimed the League Cup last season. All the talk is of the future of Wayne Rooney, who is on the bench. What sort of reception will he get from the travelling United faithful?
17:06: Well, well, well. No doubt where the result of the day comes from and the pressure continues to mount on Arsene Wenger whose side were outclassed by Aston Villa at the Emirates. Referee Anthony Taylor took the brunt of the boos at full-time but the Frenchman's refusal to spend in the transfer window, a problem exacerbated by an injury and suspension list to which Laurent Koscielny and Bacary Sagna are both now added to.
We shouldn't ignore the style and panache which accompanied West Ham United's win over Cardiff City through goals from Joe Cole and Kevin Nolan or Southampton's last gasp victory at West Bromwich Albion through Rickie Lambert's late penalty.
Norwich City and Everton played out an entertaining 2-2 draw with Ricky van Wolfswinkel grabbing his first goal in English football while Fulham's Pajtim Kasami gave them victory against a much-changed Sunderland.
Full time: Arsenal 1-3 Aston Villa
Full time: West Ham United 2-0 Cardiff City
Full time: Sunderland 0-1 Fulham
Full time: West Bromwich Albion 0-1 Southampton
Full time: Norwich City 2-2 Everton
16:53: Arsenal's injury problems have got even worse. Bacary Sagna lands on his neck and there is real concern over the Frenchman.
16:49: The perfect end to the perfect week for Rickie Lambert. His international debut crownd with the winning goal, and now Saints' first game of the season goes the same way as Lambert converts his 32nd consecutive penalty.
Goal: West Bromwich Albion 0-1 Southampton (Rickie Lambert 90)
16:47: Fat lady warm up please. Villa on the break as Wiemann feeds Antonio Luna and no his debut for the club he steers it past Szczesny.
Goal: Arsenal 1-3 Aston Villa (Antonio Luna 85)

16:42: Breaking team news from the Liberty Stadium; Wayne Rooney named on the bench for Manchester United at Swansea City.
16:40: Even with 10-men Arsenal are pushing hard and they almost level with Santi Cazorla who collects Tomas Rosicky's header before hitting a shot which Brad Guzan tips onto the bar. Now Benteke shoots wide on the break. Just 10 minutes left.
16:38: Sam Allardyce used to say the West Ham way was the losing way, but he might have to change his tune as The Hammers take a two goal lead in stunning fashion as Kevin Nolan curls home after a long passing move.
Goal: West Ham United 2-0 Cardiff City (Kevin Nolan 76)
16:32: Stewart Downing on for West Ham who still lead Cardiff 1-0.
Goal: Norwich City 2-2 Everton (Ricky van Wolfswinkel 72)
16:29: Arsenal are all over the place now and Koscielny, just minutes after being booked for fouling Agbonlahor for the penalty, receives a second booking for taking out Wiemann. Correct decision and The Gunners are having a torrid time of it.
Red Card: Laurent Koscielny (Arsenal)
16:27: Re. Villa's second penalty at arsenal. If there was no doubt over the first one, there is much to be said about the second which replays suggest Koscielny might have got a toe end on the ball. Inconclusive for me so no blame attached to referee Anthony Taylor.
16:25: A turnaround at the Emirates and now another on at Carrow Road and after John Ruddy palms away Steven Pienaar's shot and Seamus Coleman follows up to put Everton in front.
Goal: Norwich City 1-2 Everton (Seamus Coleman 65)
16:22: Laurent Koscielny dives in on Agbonlahor and it's a second penalty for Villa. Benteke over it and he sends Szczesny the wrong way.
Goal: Arsenal 1-2 Aston Villa (Christian Benteke 62)
Penalty to Aston Villa
16:20: Norwich have come unstuck as the Toffees have levelled with a superb strike from Ross Barkley who controls with his right and smashes home with his right.
Goal: Norwich City 1-1 Everton (Ross Barkley 60)
16:14: Villa almost complete the turnaround at the Emirates but Fabian Delph's drive smashes against the post.
16:13: Very tight game but Fulham strike first as Pajtim Kasami heads homefrom a corner. The Black Cats fans are restless.
Goal: Sunderland 0-1 Fulham (Pajtim Kasami 52)
Just the 13 attempts on goal but to no avail and Norwich punish Everton's wayward finishing. Steven Whittaker strikes the post but is first to react and rams in the reboud.
Goal: Norwich City 1-0 Everton (Steven Whittaker 51)
16:08: Southampton have had 63% possession during the first half at West Brom, very much a fabric of Mauricio Pochettino's reign in charge. Another trend of the Argentine's spell has been failure to win, just four wins came after his appointment. All the 3pm kick-offs are back underway.
15:58: Not the most exciting of halfs of football in the Premier League. Just three goals in five games of the 3pm kick-offs. Olivier Giroud had Arsenal ahead early on but Christian Benteke started repaying that new contract with his first goal of the season for Aston Villa as he nodded in after Szczesny has saved his penalty.
The only other goal has come at Upton park where Joe Cole has scored a stunner to take the lead over newly promoted Cardiff city.
Elsewhere, there is little to report. We're glad it's back though no?
Half time: Arsenal 1-1 Aston Villa
Half time: West Ham United 1-0 Cardiff City
Half time: Sunderland 0-0 Fulham
Half time: West Bromwich Albion 0-0 Southampton
Half time: Norwich City 0-0 Everton
15:45: West Ham close to making it two. Mohamed Diame's shot from the edge of the box deflects off Cardiff defender Matt Connolly and to safety.
15:39: Right old mess at the Emirates Stadium. Szczesny comes out and gets none of the ball. Benteke tees up Keiren Westwood but the former Crewe man is denied by the Polish stopper as he backpedalled towards his goal. Crazy stuff.
15:35: You may have noticed that updates from the Hawthorns and the Stadium of Light have been few and far between. Southampton have been on top for the duration against West Brom, Rickie Lambert having an effort blocked before the ball was in the net after Lallana poked home after Lambert's header. The England forward was ajudged to be offside.
15:30: Everton go close again this time through Mirales but his effort is block and only produces a corner.
15:28: Nasty clash of heads at the Emirates between Andreas Wiemann and Kieron Gibbs and the latter has come off the worse. Looks like an early change and another injury for Wenger. Carl Jenkinson replaces him.
15:27: Update from Carrow Road where everton have gone close through Nikicia Jelavic, who exchanges passes with Kevin Mirales but shoots wide.
15:24: Agbonlahor drives through the Arsenal defence and is poleaxed by Wojciech Szczesny and referee Anthony Taylor has no choice but to point to the spot. Christian Benteke misses the resulting spot kick, but the Belgian heads in the rebound.
Goal: Arsenal 1-1 Aston Villa (Christian Benteke 23)
Penalty to Aston Villa
15:21: A new season always means new kits and it would be wrong on the first day of the season to ignore this facet of the game. The highlight (or lowlight) of the opening weekend comes from Aston Villa, who have produced this (below) effort for their away game at Arsenal.
15:19: Early change for Villa. Ciaran Clarke on for Nathan Baker who picked up one of the aforementioned injuries in the opening minutes.
15:17: Life in the Premier League got all the more harder for Cardiff City. Joe Cole, with his back to goal, is allowed to turn and guides a beautiful curler into the far corner. Brilliant from the England international.
Goal: West Ham United 1-0 Cardiff City (Joe Cole 15)
15:12: Couple of tough tackles going in at the emirates, few early injuries have contributed to a disjointed start. Villa's first real attack sees an Agbonlahor cross cleared by Gibbs.
15:08: Alex Oxlade-Chamberlain is released down the left and crosses for Olivier Giroud to tap home. Very simple, too simple if you're Paul Lambert.
Goal: Arsenal 1-0 Aston Villa (Oliver Giroud 6)
15:03: Only one new face at the Emirates in the form of Antonio Luna. Arsene Wenger has defended the club's struggles in the window. With several injuries we're about to see how desperate the problem is.
14:59: Not far away from kick-off in the 3pm games. Our focus will be on Arsenal's opener against Aston Villa. Updates and the goals as they go in across the country of course.
14:43: Teams:
Arsenal: Szczesny, Sagna, Mertesacker, Koscielny, Gibbs, Ramsey, Rosicky, Walcott, Wilshere, Oxlade-Chamberlain, Giroud. Subs: Podolski, Cazorla, Fabianski, Sanogo, Jenkinson, Frimpong, Gnabry.
Aston Villa: Guzan, Lowton, Vlaar, Baker, Luna, El Ahmadi, Westwood, Delph, Weimann, Benteke, Agbonlahor. Subs: Okore, Clark, Bacuna, Helenius, Steer, Bowery, Tonev.
Referee: Anthony Taylor
Teams:
Norwich: Ruddy, Whittaker, Martin, Turner, Garrido, Elliott Bennett, Howson, Johnson, Redmond, Hoolahan, van Wolfswinkel. Subs: Bunn, Becchio, Butterfield, Olsson, Ryan Bennett, Fox, Ayala.
Everton: Howard, Coleman, Jagielka, Distin, Baines, Mirallas, Barkley, Osman, Pienaar, Fellaini, Jelavic. Subs: Robles, Heitinga, Kone, Deulofeu, Naismith, Stones, Anichebe.
Referee: Michael Oliver
Teams:
Sunderland: Westwood, Celustka, Roberge, O'Shea, Colback, Giaccherini, Larsson, Cabral, Johnson, Sessegnon, Altidore. Subs: Wickham, Mandron, Moberg Karlsson, Diakite, Ba, Cuellar, Ji.
Fulham: Stekelenburg, Riether, Hughes, Hangeland, Richardson, Kasami, Boateng, Sidwell, Duff, Taarabt, Berbatov. Subs: Senderos, Ruiz, Stockdale, Karagounis, Briggs, Rodallega, Bent.
Referee: Neil Swarbrick
Teams:
West Bromwich Albion: Foster, Billy Jones, McAuley, Olsson, Ridgewell, Morrison, Mulumbu, Yacob, Dorrans, Anelka, Long. Subs: Popov, Rosenberg, Brunt, Myhill, Vydra, Dawson, Berahino.
Southampton: Boruc, Chambers, Lovren, Fonte, Shaw, Ward-Prowse, Wanyama, Schneiderlin, Lallana, Lambert, Rodriguez. Subs: Kelvin Davis, Clyne, Steven Davis, Ramirez, Cork, Mayuka, Hooiveld.
Referee: Kevin Friend
Teams:
West Ham United: Jaaskelainen, Demel, Collins, Reid, O'Brien, Noble, Nolan, Diame, Cole, Maiga, Jarvis. Subs: Tomkins, Rat, Vaz Te, Adrian, Morrison, Diarra, Downing.
Cardiff City: Marshall, Connolly, Caulker, Turner, John, Medel, Gunnarsson, Bellamy, Whittingham, Kim, Campbell. Subs: Hudson, Smith, Gestede, Mutch, Cowie, Maynard, Lewis.
Referee: Howard Webb
14:42: Welcome back the Premier League and there is more where that came from with six more games on this opening Saturday of the season. All the team news from the five 3pm kick-off to come.....
14:38: Drama, drama, drama. Liverpool get the win but thanks to the heroics of Simon Mignolet, who despite looking unsettled for much of his debut saved an 89<sup>th minute penalty from Jonathan Walters. Daniel Sturridge got the winner in the first half and Asmir Begovic produced save after save to keep the home side at bay. Mark Hughes' Stoke City tenure begins with a defeat, but he'll take much encouragement from it.
Full time: Liverpool 1-0 Stoke City
14:34: Three added on minutes at Anfield. Liverpool heading for their first opening day victory at home for 12 years.
14:33: Adam whips it in and as Daniel Agger goes to head the ball away the Dane misjudges it and it strikes his hands and referee Martin Atkinson has no choice but to point to the spot. Jonathan Walters is over it and Mignolet guesses right, parrying the ball before denying Kenwyne Jones from the follow-up effort. A hero is born.
Mignolet Saves from Walters
Penalty to Stoke City
14:29: Stoke have a free-kick, 35 yards from goal. Adam over it...
14:24: Goodness me. Charlie Adam, who was introduced without much fanfare on the hour has hit one from fully 50 yards which Mignolet has to tip over the bar. The corner comes to no avail however. Eight minutes left.
14:23: Steven Gerrard has been right on the money from set-pieces today and he's on target with his frist effort on goal, forcing Begovic into turning the ball round for a corner. From the resulting set-piece, Toure can't convert from close range as Stoke struggle to clear. Ball is at the wrong end for Mark Hughes' side. Kenwyne Jones will be introduced to see if he can change things and he replaces Peter Crouch to a nice ovation.
14:19: First yellow card of Kolo Toure's Liverpool career comes with 15 minutes left. Liverpool sitting off just a little as Stoke enjoy a bit more of the ball but the Potters aren't showing much attacking threat. Sturridge flashes one across goal as The Reds seek a second.
14:14: Raheem Sterling replaces Iago Aspas, who looked impressive on his Liverpool debut.
14:12: Stoke almost equalise as Huth's shot is blocked by Daniel Agger but the referee had already blown for a foul and Liverpool survive. Stoke have to do something they've never done in the Premier League and that is score at Anfield. With 20 minutes left they're running out of time.
14:07: OFF THE POST Liverpool test the woodwork again as Stoke cling onto this game with their fingernails. Henderson is fed in the right hand-channel of the penalty area he has curls one towards the far post and Begovic tips the ball onto the post. If the visitors get anything from this, they have their Bosnian stopper to thank.
13:58: Getting bored of talking about Philippe Coutinho this afternoon but once again he is central to another Liverpool attack. His cross comes off Sturridge but it finds its' way to Henderson who brings the best out of Begovic who produces a brilliant one-handed save to push the ball to safety.
13:55: Some concerning news regarding Wilson Palacios. The Honduran has been taken to hospital after withdrawing from the starting line-up due to illness.
13:50: New half but same old story for Liverpool as another chance goes begging. It's Coutinho who is one of three Liverpool forward baring down on the goal, but the Brazilian can only curl the ball beyond Begovic's left-hand post. Let off for Stoke.
13:48: Second half has begun at Anfield. No changes.
13:45: Since joining from Chelsea in the January transfer window, Daniel Sturridge has enjoyed a purple patch for Liverpool. His goal today was his seventh in his last six games for The Reds. He netted 13 during the second half of the campaign and in the absence of Luis Suarez, his role this season is more important than ever. Never intrusted with leading an attack before for club or country, can he flourish under the responsibility? His first half display today suggest he can.
13:36: What an enthralling return of the Premier League following an entertaining first half between Liverpool and Stoke City. The hosts are deserved ahead through Daniel Sturridge but Kolo Toure, Jose Enrique and Jordan Henderson will all be wondering what if. Stoke haven't come to make up the numbers and had Robert Huth found the net from an early volley things could have been far different. Since, Jonathan Walters has been denied by Mignolet and Glen Johnson has been forced to clear a deflected corner off the line. Got all that?
Half-time: Liverpool 1-0 Stoke City
13:32: Stoke get a fortunate corner after Huth heads behind and stoke almost take advantage of their good fortune. Walters' corner beats the first man and Glen Johnson is forced to clear off the line.
13:28: A bit of an nervy spell since taking the lead for Liverpool and Stoke almost take advantage by levelling. Toure can't get the ball away and Walters swivels on a sixpence and forces Mignolet to turn away his effort from 20 yards. Comfortable height for the Belgian but an important save nonetheless.
13:24: Liverpool have carved Stoke City open on numerous occasions this afternoon so it's typical that the opening goal comes from an effort from range. Daniel Sturridge gets the ball 25 yards out and he hits a daisy-cutter which flies into the corner beyond the outstretched Begovic. Deserved lead for The Reds.
GOAL: Liverpool 1-0 Stoke City (Daniel Sturridge 38)
13:22: Liverpool really should be ahead. Coutinho *again* is the orchestrator of the attack and he finds Jordan Henderson all alone but after cutting in on his left foot, he shoots straight at Begovic. Been here before with Liverpool during the second reign of Kenny Dalglish and it wasn't pretty.
13:20: Stoke look a lot more willing to pass the ball than in the days of Tony Pulis. Despite the giants of Peter Crouch in attack, they appear happy to build from the back. Whether, as Mark Hughes said before kick-off, that leads to more chances being created, is to be seen. Only one opening so far.
13:15: Lovely move from Liverpool. Coutinho again starts it all and when he finds Enrique the full-back plays a one-two inside the stoke penalty area with fellow-countryman Aspas but is denied by Begovic, wonderful flowing move. Game has meanwhile hit a bit of a lull, but frankly, it was due.
13:07: Another opening for Liverpool as Coutinho comes in off the left and feeds Aspas who can only get a toe end on the effort which goes straight into the arms of Begovic. Just before, Mignolet was almost caught out again after his clearance ricochets off Walters. There are few doubts over the Belgian's abilities as a goalkeeper, but on the floor questions still remain.
13:05: Peter Crouch, in front of the Kop, wants a penalty after colliding with Toure and Johnson at the back post. The operative word being collided and Martin Atkinson waves away appeals.
13:02: Coutinho is dropping off and causing all sorts of problems and this time he feeds Sturridge who rounds Begovic, flicks the ball towards the back post but its acrobatically cleared by Pieters at the back post. Frenetic start. Like it's never been away.
13:00: OFF THE BAR AGAIN. It's Liverpool's turn to test the Anfield woodwork. Gerrard's set-piece again this time finds Kolo Toure who rattled the bar with a firm header. Both sides look very susceptible from set pieces.
12:57: Ball in the net at Anfield but it is disallowed. Gerrard's free-kick is a good one and Sturridge heads home, but the England forward is deemed offside. Close one but the officials got it right.
12:55: OFF THE BAR! Liverpool all over the place at the back. Mignolet flaps at Cameron's cross and Robert Huth smashes the ball off the bar from the resulting volley. Encouraging start for the Potters but for Liverpool new goalkeeping, almost a calamitous begining to his career on Merseyside.
12:51: Little to report in the opening exchanges at Anfield. Coutinho already looks like a threat, weaving in between Geoff Cameron but eventually being muscled off the ball. At the other end Jonathan Walters, starting on the right runs the ball out of play.
12:47: Underway in the opening game of the 2013/14 Premier League season. Anfield rocking.
12:46: You'll Never Walk Alone being bellowed around Anfield. Hairs everywhere.
12:45: A quick update before kick-off, Wilson Palaios has been withdrawn due to illness so Marc Wilson will slot in in midfield. Steve McManaman believes Charlie Adam, on his return to Anfield, would have been a like-for-like replacement for the Honduran. He's wrong. Get them out the way early on eh Stevie?
12:42: As for today's fixtures, allow me to set myself up for a fall:
Liverpool 0-0 Stoke City
Arsenal 1-0 Aston Villa
Norwich City 2-1 Everton
Sunderland 2-0 Fulham
West Bromwich Albion 0-2 Southampton
West Ham United 3-1 Cardiff City
Swansea City 1-1 Manchester United
12:40: It wouldn't be the opening day without some outlandish predictions, so before we get to today's games let me share with you my thoughts ahead of the new season
Champions: Manchester City
Runners-up: Chelsea
Champions League: Manchester United, Arsenal
Relegated: Stoke City, Hull City, Crystal Palace
Leave your predictions in the comments section below or email me on n.howson@ibtimes.co.uk. I'm open to all types of feedback, but expecting one particular type.
12:38: Less than 10 minutes until kick-off at Anfield and despite much anticipation on Merseyside Liverpool are without a home win on the opening day since Michael Owen helped down West Ham United in 2001. History on Stoke City's side somewhat.
12:34: Brendan Rodgers on BT Sport on Luis Suarez: "I said in the press conference in the other day, Luis is banned from playing and out of respect to the other players I'm not going to mention anymore on him. My only thing is he is back in the group and we'll move on."
12:33: IBTimes UK has up to the minute coverage of the Premier League this season and in preparation, our esteemed writers had a look at each of the 20 sides ahead of the new campaign in an attempt to predict where they might end up come the beginning of May. Ahead of the opening game at Anfield, take a look at how we think Liverpool and Stoke City will get on this season.
12:27: Hughes has something of a reputation to rebuild after a torrid time with Queens Park Rangers. The Welshman was sacked last November after failing to win any of Rangers' first 12 league games, a run which contributed to the club's relegation from the top flight. After his inauspicious departure from Fulham, Hughes has much work to do and must start the rebuilding process at Anfield. As a former Manchester United striker, the reception will be typically robust.
12:24: Mark Hughes on BT Sport: "The guys have been working really hard. I've had to disappoint a few but we're looking forward to today. I think we've got a lot of fundamentals that we have to execute correctly and if we do we'll have a good season. We'll try and play in way that will able us to have more shots on goal. We want a good start and a bit of momentum and we'll be fine. We've got a lot of good players in the group. I've seen enough in the building that we can have a good season."
12:20: A bit of subtext behind those line-ups for those who have spent their summer in the Ecuadorian embassy; Liverpool start with three of their four summer signings in Kolo Toure, Iago Aspas and Simon Mignolet, while Luis Alberto is on the bench. Stoke have signed just two players in the window and one of those Erik Pieters , starts at full-back.
Martin Atkinson will be the first referee to benefit from the goal decision system. That should make his job easy peasy then. Not.
12:15: Teams:
Liverpool: Mignolet, Johnson, Toure, Agger, Jose Enrique, Gerrard, Lucas, Henderson, Aspas, Sturridge, Coutinho. Subs: Brad Jones, Alberto, Allen, Borini, Sterling, Wisdom, Ibe.
Stoke: Begovic, Cameron, Shawcross, Huth, Pieters, Whelan, Nzonzi, Palacios, Walters, Crouch, Etherington. Subs: Muniesa, Pennant, Jones, Wilson, Adam, Sorensen, Jerome.
Referee: Martin Atkinson
12:11: This summer might have been all about Rooney, Bale and Suarez but the opening weekend is here and what a first set of games we have in store. David Moyes leads Manchester United for the first time against Swansea City and Arsenal will attempt to warn off criticism over their lack of spending this summer when they face Aston Villa.
But first, we go to Anfield. Liverpool start their attempts to qualify for the Champions League against a Stoke City side who are led by Mark Hughes for the first time. Tasty no?
12:00: The waiting is finally over. Forget the Lions, the Ashes, Justin Rose's heroics at the US Open, Mo Farah's record breaking feats at the World Athletics Championships. The most exciting brand of sport around is back in its most intriguing guise yet and we couldn't be happier. Could we?