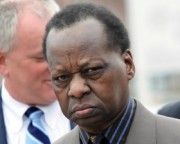 Onyango Obama, 67, who is the half-brother of the president's late father, appeared in court on 17 November to face charges of driving under the influence of alcohol.
The Kenyan native was arrested by police in Framingham, near Boston, on 24 August this year after he allegedly drove through a stop sign and subsequently failed several breathalyser tests.
In a police report, the arresting officers stated that Obama slurred his speech and became argumentative on the day in question.
He secured his own fate when he also allegedly blew a reading of 0.14 percent on a blood-alcohol breath test, which is above the state's legal driving limit of 0.08 percent.
Officer Val Krishtal said in the written report: "I explained to him that I narrowly avoided striking his vehicle and he told me that he did not hear my tyres screeching, so I was not being accurate."
Unfortunately for him, his very colourful rap sheet revealed that had an earlier deportation order issued to him in 1992 when his case was brought to court.
According to reports, Obama ignored the deportation order and instead worked at a liquor store in Framingham after acquiring fake documents.
Obama, who pleaded not guilty to all the charges against him, including operating a vehicle while under the influence, negligent operation of a motor vehicle and failure to yield the right of way, is being held without bail.
This is not the first time one of the Presidents family members has gotten on the wrong side of the law. In 2010, reports surfaced that the President's half-brother, Samson Obama, was arrested in the UK for allegedly molesting a 13-year- old girl. Although he was subsequently released, he has been listed as persona non grata by the British Home Office.
Any hopes that Obama had of calling in favours from his nephew have been dashed after the White House released a statement, saying that it expects the arrest of Onyango Obama to be handled like "any other case".