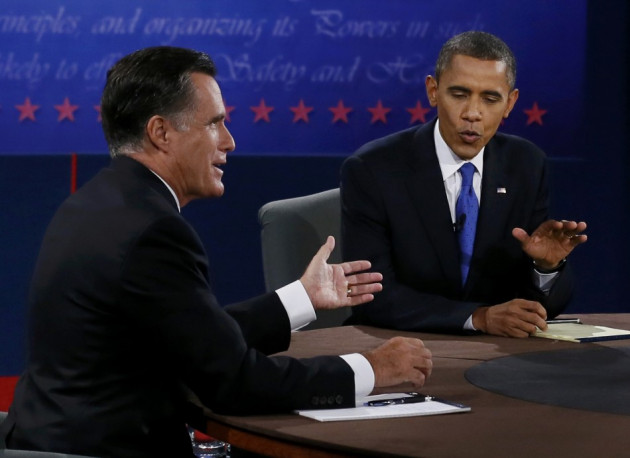 Foreign affairs and national security have dominated the third and final US presidential debate between the President Barack Obama and Republican candidate Mitt Romney at the Lynn University in Boca Raton, Florida.
Though Iran, Israel, China and Arab Spring took major part of the 90-minute debate, both the presidential candidates did not forget to assure the American voters on their unflinching support to the job cause as both of them vowed to create more jobs in their appeal to the voters at the conclusion of the debate.
The Republican challenger highlighted the plight of civilians in Syria, leadership change in Egypt, resurgence of al- Qaida affiliates in North Africa, consulate attack in Libya and Iran's nuclear ambition during the debate.
Obama accused Romney of "being all over the map" on foreign affairs and described him as "wrong and reckless".
"What we need to do with respect to the Middle East is strong, steady leadership, not wrong and reckless leadership that is all over the map," said Obama, adding that he would defend Israel from Iran.
"And unfortunately, that's the kind of opinion that you've offered throughout this campaign".
Romney responded to the president's remarks: "Attacking me is not an agenda. Attacking me is not how we deal with the challenges of the Middle East".
Romney, at one point, congratulated Obama for killing al-Qaida leader Osama bin Laden, but pointed out that the president failed to retain America's global leadership.
"I congratulate him on taking out Osama bin Laden and taking on the leadership of al-Qaida," said Romney.
"But we can't kill our way out of this... We must have a comprehensive strategy".
The former Massachusetts governor was highly critical of Obama's "apology tour" of the Middle East in 2009, after he assumed the office of the president. He said the president's move made America look weaker and allowed Iran four years closer to a nuclear bomb.
"Mr President we have not dictated to other nations, we have freed other nations from dictators," said Romney.
Obama said he was not in the Middle East countries to apologise for America while dismissing the claim as a "the biggest whopper told during the campaign".
The third and final debate moderated by CBS News' veteran presenter Bob Schieffer saw an aggressive Obama mocking the Republican challenger on his calls for inclusion of more ships built by the US Navy in the military.
Romney said United States should typically have 300 and only had 285, to which Obama responded: "Governor, we also have fewer horses and bayonets," evoking laughter among the audience.
The two men went to the final debate with a neck-on-neck support, 47 percent each, according to an NBC poll ahead of the final showdown. A CNN/ORC International poll after the debate gave Obama a narrow edge over Romney - 48 percent for Obama and 40 percent for Romney.