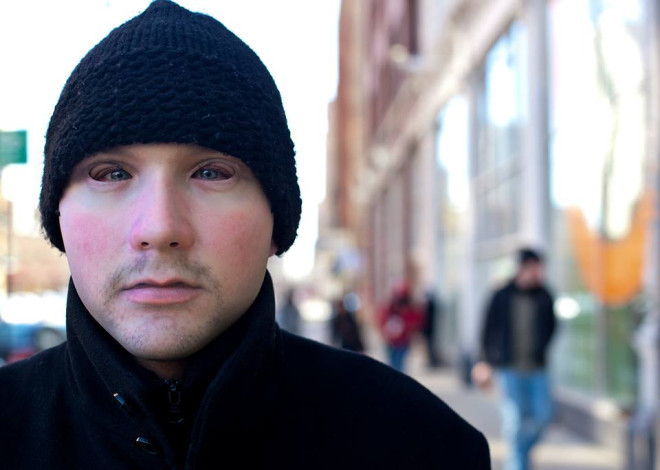 Have you always wanted to hide your identity from CCTV cameras while out in public? Well now you can, by wearing the face of Leo Selvaggio, a Chicago-based artist who wants to protect the public from surveillance and open a discourse on how we are monitored.
Selvaggio has created the URME (pronounced "U R Me") Personal Surveillance Identity Prosthetic, a realistic 3D-printed mask of his face made from a pigmented hard resin.
The mask has a photo-realistic rendering of his skin tone, contours and facial hair, thanks to facial recognition technology from That'sMyFace.com, which lets people put their faces on miniature action figures and other toys (you might remember seeing their work in "The Cooper/Kripke Inversion" episode of Big Bang Theory).
Essentially, Selvaggio is allowing you to borrow his identity, in a way, as the mask is accurate enough to make professional facial recognition systems identify the mask as being him.
Concerns about lack of privacy
He decided to start making anti-surveillance devices after spending five years living and working in Chicago, the most surveilled city in the US which has 25,000 surveillance cameras, all networked into a single hub called Virtual Shield.
"The problem with Virtual Shield is that it comprises military-grade facial recognition software, so you can be anywhere in Chicago and the camera can not only track you, but also pull up all of your corresponding information," explained Selvaggio, the founder of URME Surveillance in a video.
"There just isn't that much privacy anymore. I decided to look into ways to protect the public, but most of these ways are about hiding one's face. Even if a camera doesn't catch your face, you're going to stand out, especially if you're wearing a balaclava in the summer.
"Then I had an idea – what if I didn't try to hide a person from surveillance, but I showed the camera a different, alternative identity. I wanted to make a Guy Fawkes mask that could pass as a real face."
Products to protect the public
Selvaggio is developing three anti-surveillance products, which include the prosthetic mask which retails at for $200 (£118.65); a DIY paper mask kit for $10 that is designed to be used by activists in public; and a video facial encryption software program for Mac OS costing $25, that replaces up to five people in a video frame with Selvaggio's face.
The quality of all the products is good enough to bypass Facebook's sophisticated facial recognition software so that the social network tags anyone wearing either the prosthetic or paper mask as Selvaggio.
However the artist says that his products are designed to protect people from surveillance and to encourage people to express themselves in a "public space", so everything is being sold at cost price.
In less than a month, the URME campaign on Indiegogo has raised $1,560 (£924), when the original goal was $1,000, and there are still 33 days to go.
"Changing the state of surveillance at the current state of technological growth is impossible. So rather than trying to combat that surveillance directly, I propose that we change what is being surveilled. Help me change us, and what better way to start, then with me. You are me," said Selvaggio.